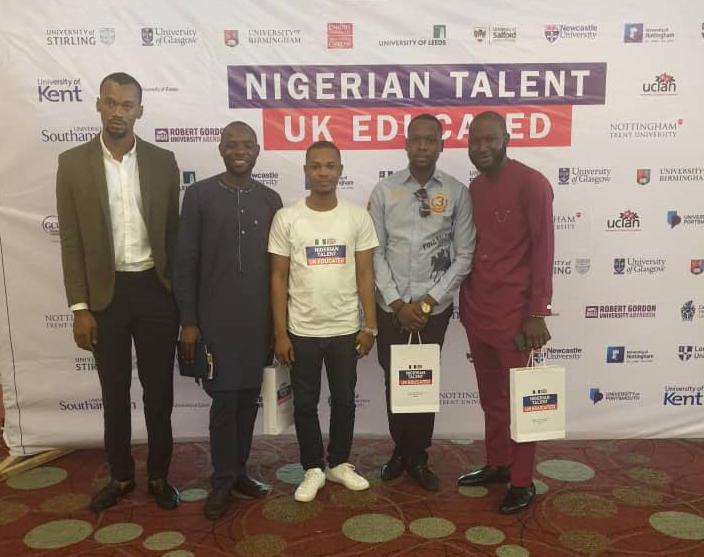 Some alumni of UK universities at the 2019 career fair,held at Sheraton Hotel,Abuja
By Joseph Erunke
ABUJA – SOME universities in the United Kingdom recently organised a career fair aimed at affording Nigerians who studied in the UK the opportunity of meeting direct with top employers of labour in Nigeria.
The career fair,tagged:"Nigerian Talent, UK Educated",held at the Sheraton Hotel, Abuja,according to its organisers,was also intended to provide opportunity for some Nigerians who want to further their education in the UK get basic information needed and make informed decisions.
The event,according to representatives of the 19 UK universities that organised it,was also to showcase the talent and skills of the students who studied in the UK.
Some of the UK universities involved in the project are universities of Essex;Birmingham;Cardiff; Nottingham; Salford; Southampton; Sterling; Sussex; Cardiff Metropolitan; Central Lancashire;Glasgow;Newcastle; Loughborough; Portsmouth; Robert Gordon; Nottingham Trent and Glasgow Caledonian
Ms Emma Tarrant, Regional Manager,West African External Relations, University of Nottingham, while speaking at the two-day event,explained that the objective of the career fair was to link students in the UK with employers as well as getting them quality jobs.
Hear her:What we do for our students in the UK is that we link them with employers as well as offer them high quality education.
"This is an extension of what we offer our students in the UK,to be able to link them with employers in Nigeria. We have reached out to alumni and invited them here. We have also reached out to our alumni that work in different organisations to also come to meet with their members."
According to her,"Over 300 alumni and 15 companies registered to participate in the event."
"A good number of our alumni return to Nigeria, they want to work in Nigeria. They want to use the good skills they used in the UK to benefit organisations and business developments in Nigeria,"she said.
She spoke further:"We promise to make this an annual event. Last year,we had this event in Lagos. This year,we decided to have it in Abuja. Next year,we would probably have two events-one in Lagos and the other in Abuja."
"For us,what we are looking at is to encourage employers and street graduates to come together and find a common ground. It's a win-win for Nigeria,"she added
"For today's event,we have over 300 alumni who registered to come. But there is no limit for number of alumni expected here.
"Some of the alumni are already employed but they are looking at other opportunities, some of them are trying to understand how different sectors work,"she added.
The UK higher education statistics,she said, showed that in 2017 only, about 13,000 Nigerians studied in the UK.
According to her, the statistics equally showed that about 15,000 registered alumni had studied in the 19 UK universities mentioned in the past ten years.
Henderson thriving after Klopp lifts shackles(Opens in a new browser tab)
Speaking on how capital flight can be addressed in the country,Arinze Odiari, Regional Officer, International Office, University of Essex,said:"A lot of people, both young and old who have gained world-class experiences by studying and training globally,have the needed skills."
Turkey offers Nigerian students 90 % scholarship to over 80 govt varsities(Opens in a new browser tab)
"They are company organisations that are employing expatriates to fill some positions but the truth is that things like this, gatherings like this help organisations to see the vast number of young people and old people who have world-class experiences,who they can actually tap into.
"This is our country,we are not a racist country, Nigerians should also be at the forfront of the country's change and development and I believe that is what this organization's event is set to achieve,"he said.
Speaking on how Nigeria can address its high unemployment rate, he said:"For us and for me really, the question should be about what can we all do to address this issue?"
"Time after time, people talk about governnent but as individuals,as organisations,as groups,we need to do a lot, we need to get involved.
"And how can we get involved? I don't think these day-to-day organisations don't need staff, they really do. What perhaps has always been the issue is that they are looking for the right people to fill up the posts,the openings and the positions in the companies and organisations.
"So, what we have done is to bring a percentage of what we have, graduates that have world-class education and experiences. They are here open and willing to fill up all these positions,so talk to them,pick them up and then cover up that space,"he added.
Speaking to Vanguard at the event, Obadiah Gimba,a 32-year old Nigerian who graduated from the University of Texas but looking forward to pursuing his PhD programme in the UK,said the career fair can only be meaningful if the organisers can take up the issue both high charge and unnecessary difficulties associated with acquiring UK visas.
Gimba,who hails from Kaduna State, and is currently teaching Economics at the Federal University, Lafia,in Nasarawa State, after his graduation in Applied Economics and Data Analyses abroad, said his dream of going to the UK for for his PhD appeared to have been realised following the career fair.
While applauding the initiative of the UK universities to make things easier for Nigerian students aspiring to study in the UK,Mr Gimba insisted that the issue of Visa which he noted,was on a high side for students,be looked into.
Besides,he begged that tuition and living condition as well as scholarship be looked into for the prospective Nigerian students just as he regretted that these factors had pushed Nigerian students to look elsewhere around Europe and Asia for studies against their wishes in the UK.
"The initiative is very important to me based on my present career, I am into academics. This programme will avail me the opportunity to see the prospective schools of which I can further my PhD programme.
"The major constraint I know is the funding, most of the UK schools are very expensive coupled with the high exchange rates,it becomes more difficult to pursue studies in the UK.
"And most of them don't have scholarship available, that iss the major constraint. Yes,UK schools are quite good but the major problem is the cost. That is why you see some Nigerians running away to Europe and then Asia now,"he said.
Gimba spoke further:"Nigerians are really willing to go and study there in the UK but the cost is scaring them.If these schools can be considerate to give them scholarship,at least,half of the cost,it will go a long way to assist people that are not able to secure scholarship from other sources since the cost is not only the tuition but also the living cost.
"My appeal to these schools is to find a way of reducing the cost of study to affordable level."