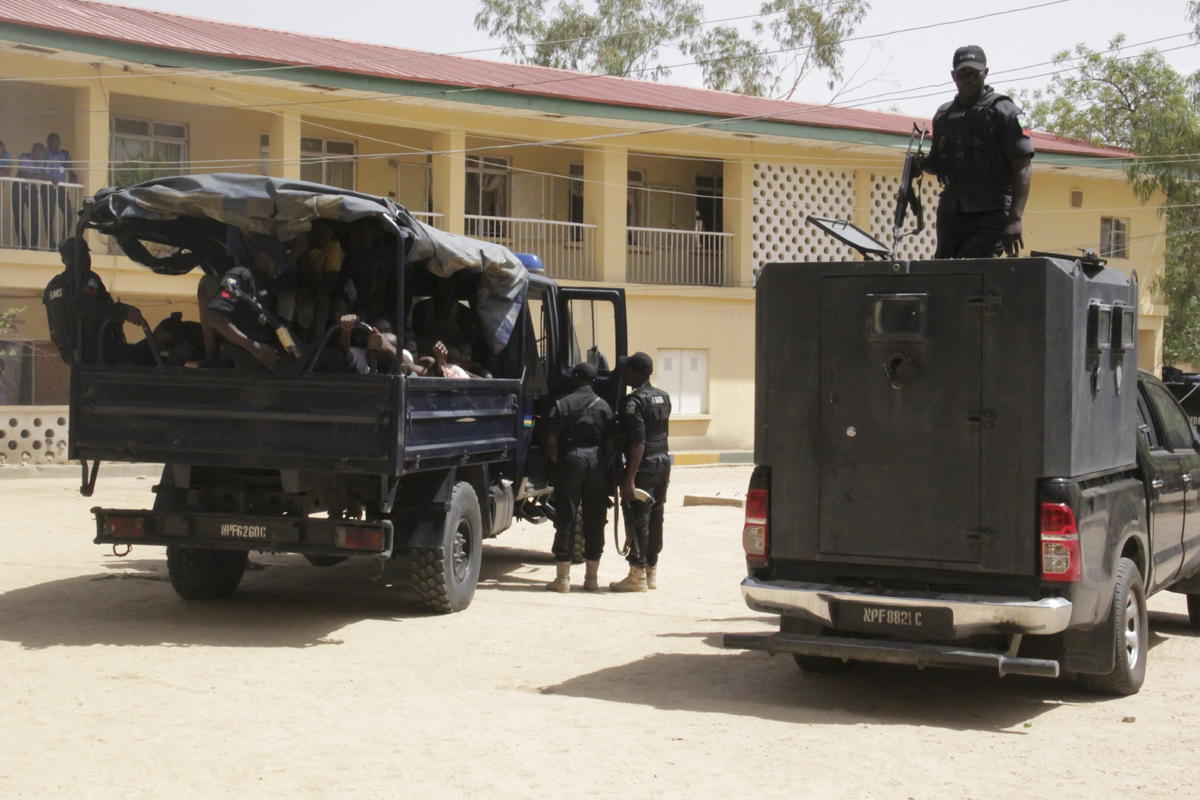 Alleged kidnappers are taken away by the police in Maiduguri on May 23, 2019 after having been paraded in front of confiscated goods such as weapons, medicined, phones and other items. (Photo AFP)
By Evelyn Usman
Notorious kidnap  kingpin and leader of Eiye confraternity in Ikorodu area of Lagos, Mufutau Timileyin Sulaimon, popularly known as Pencil, lost his life during a gun battle with a team of Special Anti-Robbery Squad, SARS, Sunday night.
Two of the operatives— Sergeant Omola Adedeji and Sergeant Oluwadare Gbenga— sustained various degrees of injuries in the process.
The deceased had been on the Police wanted list over the murder of two Bureau-de-Change operators three months ago in Ikorodu.
The operators, Alhaji Yakubu Musa and Alhaji Hassan Umoru, whose offices were located at Benson area of Ikorodu, were invited by the gang on the pretext that they needed to sell $10,000.
However, on arrival at the designated point, they were kidnapped by Pencil's gang members, who killed them after collecting N1.6 million ransom and dumped their corpses in a septic tank at Odogunyan area of Ikorodu.
Three suspects, Oluwatosin Olanrewaju, Mayowa Olawuni, popularly called General and Babatunde Idris a.k.a Aloma, were arrested a month later in connection with the kidnap and murder, while an additional suspected member, Kenneth Ebuka, was arrested last month.
Their confessional statement led to the discovery of an abandoned building in Odogunyan area of Ikorodu, where the operators' corpses and another unidentified victim were found inside a septic tank.
The Lagos State Police Public Relations Officer, DSP Elkana Bala, who confirmed the arrest, explained that the suspect was traced to his hideout at Odogunyan at about 9.10p.m., Sunday.
On sighting the SARS operatives, led by DSP Rotimi Ogunmuyiwa, Bala said the suspect opened fire on them.
He said: "The injured policemen, who sustained bullet wounds on their legs, were taken to hospital, while the said Pencil was confirmed dead on arrival.
"His gang was responsible for the mysterious disappearance of people in Ikorodu. They kidnapped, demanded for ransom, murdered and dumped them in a septic tank.
"The injured operatives were taken to intensive care unit and are responding to treatment. One gun with live ammunition and expanded ammunition were recovered."