A marathoner, Fadekemi Olude, who represented Nigeria at the first African Beach Games in Sal, Cape Verde, says she is both happy and sad for emerging sixth in the half marathon held on June 16.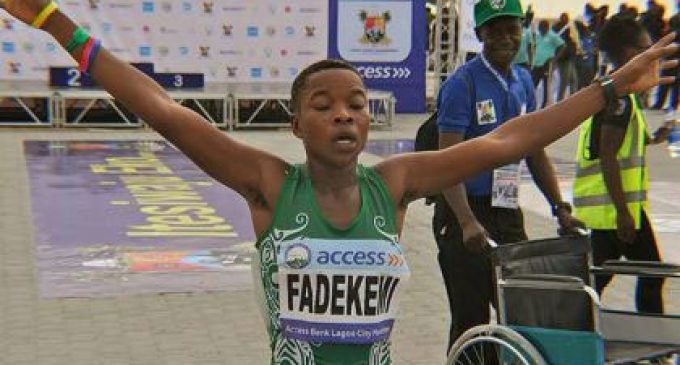 Olude told the News Agency of Nigeria (NAN) from Sal that though she placed sixth, she was grateful for the opportunity to represent Nigeria and the experience she gained.
"I felt glad because God really answered my prayer; before I left, I said that I was confident but at the same time God should help me.
"I prayed that He should make me to fly like an eagle, and if you look at the time, we were close to each other, this was a big experience for me," she said.
Olude who finished her race with a time of 1.24.40 seconds, also expressed satisfaction that she finished the race few minutes behind the scheduled time.
She said that she was sure that, if given another opportunity to represent the country, she would up her game.
"I am very sure that if there is another opportunity, there is going to be a great improvement.
"I am happy and sad at the same time.
[READ ALSO] Ethiopians sweep top prizes in Lagos marathon
"I am happy because I will be collecting a certificate, it is a great achievement, but sad because I didn't win a medal. I am sure of better outings in the future," she said.
Her compatriot in the men's category, Shehu Adamu, placed seventh with a time of 1.11.43 seconds.
Senani Riham of Algeria came first with a time of 1.18.20 seconds, Namibia's Lavina Haitope placed second with 1.19.06 seconds, while Priscilla Chelangat of Uganda returned third with 1.20.25 seconds.
Florence Malyunga of Kenya placed fourth with 1.22.37 seconds while Angola's Adelaide Machado secured the fifth position with a time of 1.23.51 seconds.
The continental multi-sport event which began on June 14 will end on June 23 with no fewer than 54 countries jostling for medals in 11 events.
NAN reports that Olude emerged second in the Nigerian female category at 2019 Access Bank Lagos City Marathon.
She also won the Nigerian female category at the 2017 Access Bank Lagos City Marathon.
She represented the country at the 2018 Commonwealth Games in Australia in race walk. (NAN)