•Sheikh Abubakar, Makinde back Bakare
•Bakare can relocate to another country —Presidency source
The Christian Association of Nigeria, CAN, Catholic Archbishop of Abuja, Cardinal John Onaiyekan, Yoruba socio-cultural and political group, Afenifere, Ohanaeze Ndigbo and Sheikh Abdulrahman Abubakar of the Islamic Movement of Nigeria, all agreed with Overseer of Latter Rain Assembly, Pastor Tunde Bakare, that the country was under siege.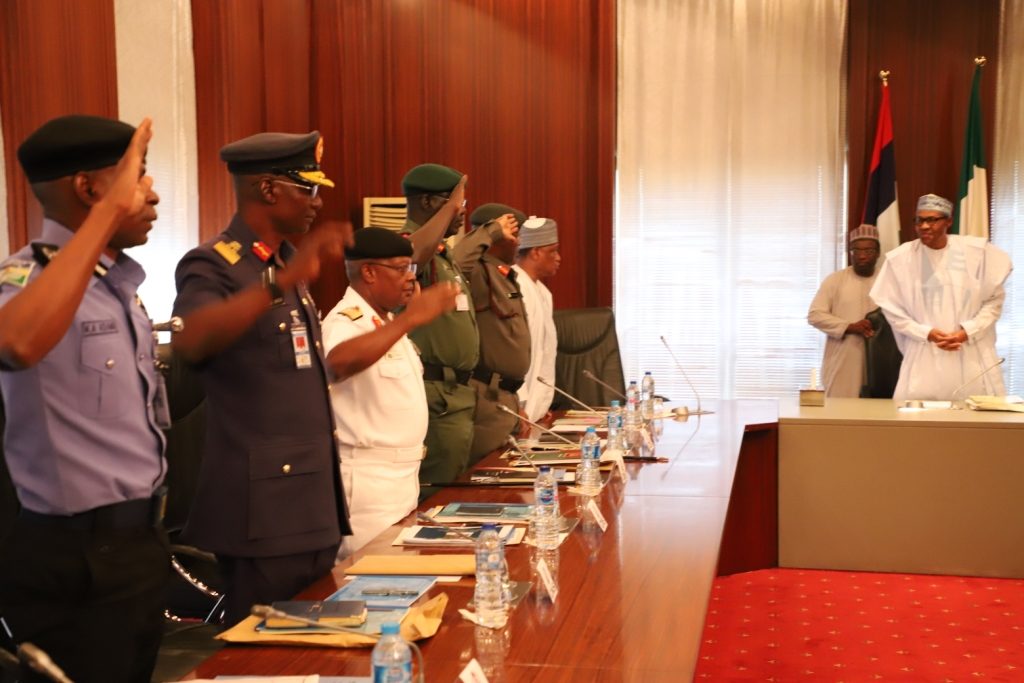 Pastor Bakare had during a service, said the country had been taken over by bandits, kidnappers, killer herdsmen and looters, who he described as the "commander-in-chief" of the nation.
However, a source in the Presidency disagreed with the view and asked Pastor Bakare to relocate to another country if Nigeria was under siege.
'Terrorists' are in charge
Said Bakare: "It is evident that the bandits, criminals, killing people every day; those kidnapping people all over the place; and cattle rustlers and killer herdsmen terrorising the people are in charge in this country; they are the commander-in-chief. Nobody seems to know what to do anymore.
Presidency replies Ohaneze, dismisses allegation of N100bn 'gift' to Miyetti Allah
''The terrorists are in charge. They have even extended their regime to these areas. They now kidnap lecturers; doctors are no longer safe. The whole nation is under the control of terrorists. But in the name of the Lord, Nigeria shall be delivered. I shall witness the deliverance and greatness of Nigeria."
Bakare also took on Garba Shehu, presidential spokesman, for comparing the Miyetti Allah Cattle Breeders' Association of Nigeria, MACBAN, to Afenifere and Ohanaeze.
Describing the comment as shameful, Bakare said anyone in his right senses would not make such comparison.
He said excluding the Arewa Consultative Forum, ACF, the northern socio-cultural group, from the comparison implies that the presidential spokesman is saying ACF is superior to Ohanaeze and Afenifere.
Rate of poverty: Buhari should match words with action ― Ohanaeze
His words: "It is shameful for anyone to compare Miyetti Allah with Afenifere. Such a person cannot be in his right senses to think that Miyetti Allah and Afenifere and Ohanaeze are the same. How can a group that has been rated as the fourth most deadly group in the world by the United Nations, a group of terrorists, be the same as Afenifere? How can a group that kills people, rapes women, destroys houses be on the same scale as Afenifere? Do Afenifere members carry weapons?  And to show the true colour of the person doing the comparison, he left out the ACF from his comparison as if that one is above everybody else.
"If you have to put Afenifere and Ohanaeze on the same scale as Miyetti Allah, why did you exclude the ACF? Is it not to tell everyone that the ACF is superior to other groups in the country?"
The Presidency has since denied this.
Easter : Nigeria'll rise above its present challenges – CAN
Bakare is right  – Ohanaeze
Speaking on the issue, Ohanaeze agreed with Bakare that Nigeria was under siege.
Media and Information Adviser to the President General of Ohanaeze, Emeka Attamah, said Bakare was "right because terrorists are really in charge of whatever is happening now in Nigeria. If terrorists are not in charge, why should officials of this government negotiate with leaders of Miyetti Allah who are demanding N100 billion to enable its members stop killing Nigerians?
"I am not even sure that they have not paid the money. I would not like to be quoted as saying that all the officials of this government are terrorists but I never knew that Nigeria would descend to this level of open brigandage.
"It has never happened before. There is nowhere in the world where the government is in tacit understanding with terrorist organisations. Governments usually fight to eliminate terrorists and not to encourage them. The Nigerian government should face terrorists and treat them as such and not to eat or dine with them."
Nigeria has terribly shrunk under banditry – Afenifere
Corroborating Bakare's statement, the pan-Yoruba socio-political organisation, Afenifere said Nigeria has terribly shrunk under banditry.
Afenifere's National Publicity Secretary, Yinka Odumakin said: "The statement by Pastor Bakare is very true as the country now reels under terror .The governable space in Nigeria has terribly shrunk under banditry."
Bakare can relocate to another country – Presidency source
Efforts to get the Presidential spokesmen to react, did not yield any results but a presidential aide, who pleaded anonymity, told Vanguard that Pastor Bakare should relocate to another country if he felt that terrorists have taken charge.
The source said: "I don't want to engage in the controversy but if he thinks that terrorists are in-charge of affairs of the country, let him relocate to another country."
FG can no longer guarantee security of lives – Onaiyekan
On his part, Catholic Archbishop of Abuja, John Cardinal Onaiyekan, took a swipe at the Federal Government's perceived powerlessness in the face of Nigeria's mounting security challenges, saying the security of the people can no longer be guaranteed by the government.
This is even as renowned Islamic scholar, Sheikh Abdulrahman Abubakar, said the failure of the security forces to minimise its own daily casualties in the fight against terror and the government's alleged payment of ransom to terrorists were signs of weakness.
They spoke in separate interviews with Vanguard, yesterday in Abuja.
Onaiyekan, who specifically questioned the inability of the security agencies to tackle the menace of kidnapping, accused some people within the corridors of power of "doing business" with the nation's state of insecurity.
He said:  "Is it until the President himself or a member of his immediate family is kidnapped before the government will do something about kidnapping? How come kidnapping is going on consistently on specific roads and the security agents can't do anything? Does it mean there are collaborators among them and the people at the top levels of government?
"The government and police have told us several times that they have put up high level security checks and that they have cleared the roads but the criminals are still operating on the roads. It is sad that the kidnappers operate regularly on the highway and demand ransom and go to the extent of collecting the ransom without being arrested. It seems some people are doing business with the nation's insecurity."
FG not leaving up to expectations – Sheik Abubakar
Sheikh Abubakar accused the government of not living up to expectations in spite of its many assurances of victory over the terrorists.
Abubakar, a respected scholar of the Islamic Movement in Nigeria, IMN, extraction, said: "Looking at the situation in the North-East, there are still a lot of casualties even within the military formations and among the common people.
"We are in a terrible security situation. The President and Commander-in-Chief of the armed forces said, shortly after coming on board, that Boko Haram has been technically defeated. However, today, we are still seeing heavy casualties on the military side occasioned by Boko Haram terrorists. We are also hearing of situations were the government is paying ransom to terrorists; thereby, emboldening them.
"We have also seen escalation of armed banditry in the North-West. Today, people are still not able to ply the 180km Abuja-Kaduna highway safely."
Yes, Nigeria is under siege – CAN
The Christian Association of Nigeria, CAN, in its reaction, yesterday, said: "We can say Nigeria is under siege because of the level of insecurity all over the country."
Responding on behalf of CAN, its Director of Legal Services and Publicity, Mr. Sam Kwamkur, said "in as much as we recognize the fact that the insecurity situation in Nigeria is getting worse and all efforts to stop it seem impossible, we cannot say that Nigeria, as a nation, is under the control of terrorists. The government is still there and we can say that the government lacks the will to handle the challenges and, most times, it seems like the political influence has overtaken the genuine commitment to tighten the noose on terrorists and other ills that are ongoing in Nigeria.
"What I am saying is that there is no will to fight it and secondly, I feel those in authority and most commentators see it from political angle. If I said a house is burning they will say which political party set it on fire? To the extent that when people are putting forward genuine security issues, they will not see it from the angle of a sovereign nation but from political party, thinking that someone is trying to undermine their power and authority.''
"We still have a government, if you see a nation that is being taken over by terrorists you will know what that means, but for us, God is still merciful to us, protecting and keeping some of us.
"When the issue of Boko Haram started, some top religious leaders were saying they were terrorist groups, the government said it was not true until Pastor Ayo Oritsejafor led a delegation to US to seek Congress to designate Boko Haram a terrorist group. It was the International community that was telling us that the people killing us are terrorists but we kept denying it.''
What is happening is worse than civil war – Makinde
On his part, the former Prelate of Methodist Church Nigeria, His Eminence Sunday Ola Makinde, agreed with Pastor Bakare, saying: ''When you see killings here and there, I will say it is even worse than the civil war, looking at the series of killings in Zamfara, kidnappers, gunmen everywhere.
I think Bakare has spoken through the spirit because we did not need a prophet to tell us that. Bakare is speaking the mind of God. Armed robbery, kidnapping everywhere, is that a country? I am over 75 years. This is not the Nigeria I was born into and this is not the Nigeria of my dream.
''I agree in totality with Tunde Bakare and for someone to compare Ohanaeze and Afenifere, that are peaceful with Miyetti Allah that jumps with cattle from one place to another. Look at the amount of money the government has spent on nomadic education, it is a waste of money. The northerners should pay reparation for wasting our resources. Look at Miyetti Allah, who made them poor? They made themselves poor and they are harvesting their misrule for so many years and people are now revolting because of lack of education.
''How can somebody compare Miyatthe Allah with Afenifere and Ohanaeze that are constructive, decent and highly educated groups? Until we restructure Nigeria, we cannot go anywhere; we are just patching our relationship. Let us restructure Nigeria economically, politically and culturally and let us know where we are going. I think 1914 amalgamation was a serious mistake, what have we achieved since then?"
Subscribe for latest Videos