By Chris Ochayi
ABUJA – AS contractors handling the remediation of oil spills in Ogoniland prepare to commence work, the government has warned them against the low quality job.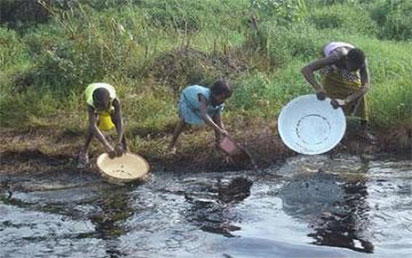 Minister of Environment, Alhaji Suleiman Zarma, speaking, yesterday, while meeting with the contractors, recently approved for the federal government in addition to the already existing 16 others,insisted that anything short of quality job will not be acceptable.
Zarma told them that he would "ensure that the ministry deployed its multilayer monitoring and evaluation teams to achieve contract objectives."
According to him,"contractors should rise up to support the Federal Government's efforts in defending the Ogoni clean-up project."
"It is important for you to defend your work because the contract affects your work and subsequent work you will apply for. "
The Project Coordinator, Hydrocarbon Pollution Remediation Project (HYPREP), Dr Marvin Dekil, said that HYPREP is a Federal Government's coordinating office saddled with responsibility of remediation commenced the implementation of projects through consultation and sensitisation of communities.
Dekil said that HYPREP adopted a robust process in arriving at selecting contractors to execute remediation project in Ogoniland.
He said that the contractor companies registered with Corporate Affairs Commission, adding that they had had technical partners abroad to jointly deliver quality work.
HYPREP begins Ogoni cleanup, hands over impacted sites to firms
The coordinator, who described the contractors as competent, assured that they would remediate Ogoni oil spill to meet best practices and standard.
FG establishes advisory committee on Ogoni clean-up
The Project Management Consultant, Mr Eric Onyeiwu, said that he would ensure that the contract is executed inline with specifications within the agreed time.