By Innocent Anaba
Minister of Power, Works and Housing, Babatunde Fashola, SAN, has said there is nothing in the power sector regulations or law that prohibits state governments from generating, transmitting and distributing their own electricity.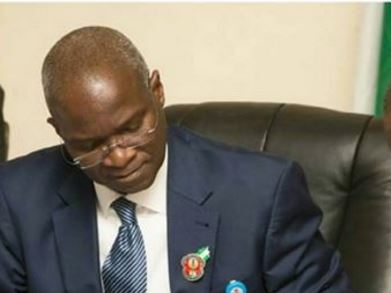 60% of North West, North East live in extreme poverty – Dangote
Fashola who stated this at the Punuka Annual Lecture series held in Lagos, said that contrary to widely held beliefs, state governments can establish their own power stations, generate, transmit and distribute electricity in areas not covered by the national grid within that state and establish their own electricity to promote and manage their own power stations.
The minister therefore called on state and local governments to pay attention to communities within their territories with limited access to grid power to improve energy access for them via off-grid solutions.
"They are clearly not areas covered by the grid and therefore constitute a viable area of intervention by a state government to contract their own power supply without reference to the Federal Government," said Fashola.
The former Lagos State governor took a swipe at calls for review of the 2013 privatisation exercise, saying those calling for review had to be more specific on what they want as the sector is essentially in private hands.
"The reality before privatisation is that the Ministry of Power had over 50,000 staff, owned trucks, employed electricians who went out to repair faults, the Ministry controlled power stations like Jebba, Kainji, Shiroro, Egbin to mention a few and the Ministry employed all of those who worked in Distribution.
"All that is gone, since November 2013. From over 50,000 staff, the Ministry now has a staff strength of 729 people. There are no electricians, fitters, repair vehicles or distribution staff in our ministry anymore and we do not supply, repair or replace distribution transformers or meters. All of these are now the work of the DisCos, under contract with BPE and under licence by NERC as a matter of Law," Fashola said.
Speaking on the topic: Developing an Effective and stable regulatory framework for Nigeria's Electricity Sector, Lessons Learnt from the United Kingdom,  guest speaker at the event,  Jonathan Cohen, stressed the need for a unified and holistic approach which he said is key in making a long-term electricity reform.
While he admitted that Nigeria's power sector has made remarkable progress in the last 9 – 10 years, he however, said much more still needed to be done. Regarding the privatisation of the sector, Cohen stated that privatisation only works when market signals are robust enough to attract investment and expertise of new sector entrants at scale; a condition that seems to be missing in Nigeria's situation. "Foreign direct investment into Nigeria's power sector has not been significant to date," he said.
The energy expert stated that the privatization of the GENCOs and DISCOs were largely financed with debt from Nigerian banks, with most of the equity from Nigerian sponsors, adding that other factors such as cash shortfalls in the sector, low DISCO payments, insufficient gas supply to power the existing and expected generation and a weak electricity transmission grid have continued to affect the transition of the sector.