…They have indeed saved many lives- Prof Ezugwu
By Victor Arjiromanus
It was a moment of great joy mixed with tears as over One thousand indigenous people of Opi community in Nsukka Local government area of Enugu state trooped out of their houses to the St. Charles Catholic church Opi, to receive free medical healthcare and other materials organised by the emerging doctors, final year students of the Enugu state university of Science and Technology, College of Medicine.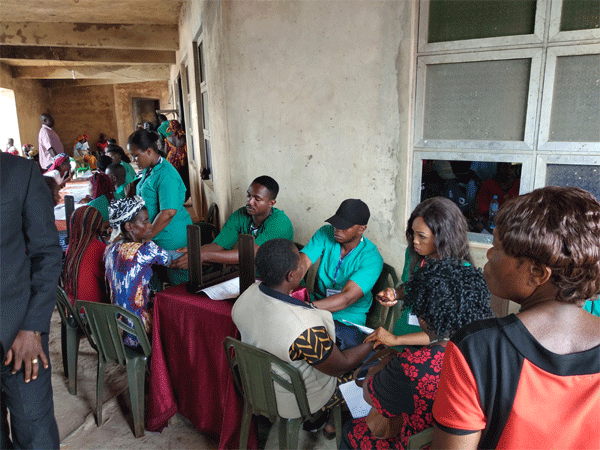 The story of a physically challenged youth, Ezema Camillius moved everyone to tears as tears rolled down his cheeks while speaking with South East voice.  "My mother have been sick but because we don't have money to take her to the hospital. Today, she was attended to free of charge."
Jubilation as Ugwuanyi performs ground-breaking of first education university in South-East
Succor and solace came to him and his mother who has been very ill for a long time, but had no funds to get medical attention in a hospital.
'I came with my mother who is sick to be checked, and I am very happy, because it has been very difficult to go to the clinic due to financial issues, but, today, we have the opportunity to get a free medical attention'
An Aged woman, Philomena Attamah, who was filled with appreciation after being tested by the doctors, said 'I don't know how to express myself on this outreach brought to us by this medical people, I don't know what could have happened to me if they hadn't come. I have been suffering a severe eye problem for a long time, but, because of money and distance to a good hospital, I wasn't able to get treatment. But, today, after checking me, the doctors referred me for a free Cataract Surgery at the Enugu state university Teaching Hospital'
The outreach which saw over 1,000 beneficiaries was organised to honour the Dean, Medical College, ESUTH, Prof. Frank Ezugwu who hails from Opi community for his outstanding contributions in the College of medicine, the final year students organised the outreach.
Medical consultation was carried out by medical doctors from Internal medicine, Paediatrics, community medicine, Neuropsychiatry, Ophthalmology, Endocrinology, and Obstetrics and Gynaecology, while the final year medical students served as medical assistants in delivering treatments and sensitization to participants.
Speaking during the outreach programme, the Coordinator, Mr Arji Emmanuel, said the outreach was an initiative brought by the set of the 2012 medical students of ESUTH to improve lives.
According to him, this selfless health intervention programme is rooted in a deep desire to improve the health and wellbeing of our society.
"We as a class, tasked ourselves on bettering the society and leave a lasting improvement on lives. We discovered that a good number of people are ignorant of their health status, and many who do, fail to seek the appropriate medical attention. Also, we are not unaware that many people do not have the means of getting good medical services, while some communities do not have health centres close to them, this is why we brought this health mission at their own doorstep, and the response of the people have been massive. We have met with over three hundred people, and many more are waiting to be attended to'
Commenting on what he described as a Rescue mission, the Dean, College of medicine, Prof. Frank Ezugwu hailed the team for the initiative, saying they have really saved many lives.
He said; 'this is the eighth set of graduating students since the history of the college, and this particular set have shown a better sense of ingenuity in their outlook of life, others would organize dinners to eat and drink, but, this particular set have touched the lives of so many people while still in medical school, you saw their awesome organization and super flow, it shows what they are made of.
I won't run for Senate again – Ekweremadu
''This health enlightenment and proactive health intervention, which is mostly preventive have saved many lives. They have picked eight people who have cataract, causing diminished vision, four other people who have early signs of Glaucoma, which is the major cause of blindness in the world, also we saw people with hypertension and diabetic cases and those with other types of ailments '
Those picked were referred for free medical surgery in the Enugu state university teaching hospital, and motivated enough to go for the referral service, while their relatives will be tested for signs of the ailments, too.
Enlightenment Talks on diabetes, hypertension, and health seeking attitudes  was handled by a consultant endocrinologist, Dr Mike Abonyi, who advised people not to rely on beliefs that every illness is caused by charm, or attach fanatical religious ideas to sicknesses, rather they should see the need to meet a doctor for their health.''
On his part Head of Department of community medicine, ESUTH, and student coordinator in the medical college, Dr. Edmund Ndibuagu hailed the initiative of the students.
He said; 'We are so proud of them, because this has never happened before. Apart from treatment, they catered for the needs of the less privileged.  We are looking forward to them impacting the lager world, I am particularly confident that they would lead their footprints in the sounds of time wherever they find themselves.''
He commended the team leaders ;  Arji Emmanuel, Victor Eke, Ozoemena Chiedozie and others for their outstanding roles in making the outreach a reality.
LASG counters FG on council fund allocation, calls for true federalism
Other beneficiaries of the outreach were the four kings of the autonomous communities of Opi; Igwes JU Ezea, PU Agbo Chukwuemeka, Bar. Ogbuabo and Engr, Ben Attamah.
Speaking on their behalf, Igwe Engr. Ben Attamah, head of Idi-Opi community said 'such medical intervention has never been experienced before in Opi community.'