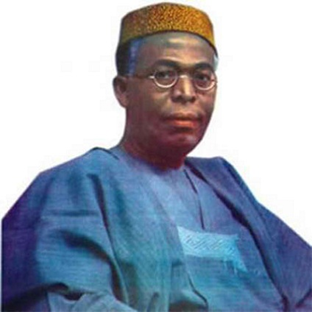 Obafemi Awolowo
THE educational ideology of Awoism
It is a notorious fact that Chief Awolowo was a singular arrowhead and defender of the rights of the Nigerian people to qualitative education. In addition to providing free primary education in the Western Region, Chief Awolowo was instrumental to the establishment of the University of Ife (now rightly known as Obafemi Awolowo University). His vision for OAU was to promote quality university education, character development and spartan self-discipline.
As the respected sage once noted: "Any system of education, which does not help a man to have a healthy and sound body, alert brain, and balanced and disciplined instinctive urges, is both misconceived and dangerous." He also remarked that: "Any people starved of books, especially the right type of books, will suffer intellectual malnutrition, stagnation and atrophy."
These lofty ideals and visions of the founding father of OAU, which is to reform and promote qualitative education in Nigeria, are strikingly the same visions and ideals that I have passionately championed and dedicated my entire life to. Like Chief Awolowo, I work tirelessly to be, and will hope to be remembered as, a staunch proponent of university reform in Nigeria; and an ardent defender of the rights of the Nigerian people to qualitative, affordable, and accessible education.
Kidnapped OAU Professor released by abductors
Accessible education
For many years, Nigerian universities have at a geometric rate waned in quality, substance and prestige. Nigerians who taught or attended any Nigerian university between 1965 and 1990 would easily appreciate the extent of annihilation and dilapidation of necessary physical structures and facilities in many of our universities. A combination of infrastructural decay, lack of adequate funding, dearth of qualitative practical training curriculum and inability to attract the best teaching minds have all stagnated our universities to the current appalling point whereby QS World University Ranking and other global rankings that rank universities based on facilities, programme and instructional content, perennially fail to rank or mention a single Nigerian university in the top 1,600 category. For many of us, this situation was an unbearable dishonour to the legacy of Chief Awolowo that required urgent and aggressive turn around.
It was the commitment to play a role in reforming Nigerian educational system that spurred me to initiate diverse reform programmes during my tenure as the Pro-Chancellor and Chairman, Governing Council of the University of Lagos. Many of the achievements we recorded during that period have been lauded globally and remain a reference point till today, including being adjudged twice as the best Pro-Chancellor in Nigeria.
Establishment Afe Babalola University, Ado-Ekiti, ABUAD
This same vision led me to establish Afe Babalola University in 2009. Since 2009, ABUAD has grown astronomically in reputation and has won several national and international awards and recognition as the fastest growing university in Africa and as a shining beacon of university education in Nigeria. The reforms we embarked on at ABUAD cut across curriculum development, practice-based learning, funding, teaching, research and entrepreneurial and vocational skills. Consequently, just eight years of existence, ABUAD has been recognised by the National Universities Commission, NUC, as "a model, benchmark and reference point for other universities" and also as "the pride of university education in the country".
In a personality lecture in honour of our fathers, our role models, foremost educationist, courageous nationalist and great Nigerians delivered by Professor I. A. Olaoye, Professor of History and International Studies and Director, Centre for Archives and Documentation, University of Ilorin, the Professor acknowledged the immense contribution of Chief Obafemi Awolowo Foundation. He said: "One cardinal philosophy of the Obafemi Awolowo Foundation is to preserve and nurture the legacy of education of the late sage to fruition. In this regard, the hope of a rewarding education system in future is not lost. In the same vein, the gigantic stride of our father and mentor, Chief Aare Afe Babalola, in the establishment of Afe Babalola University, Ado-Ekiti, is an indication that there will be light at the end of the tunnel. Although, I have not been to the university, but what I have been seeing on the television and reading from the newspapers are symptomatic of 'Renaissance' that promises a re-birth of glorious period of education in Nigeria."
The hope of a rewarding education system in Nigeria is not lost. My personal commitment and aspiration is to do all that is humanly possible, to make the Nigerian university system the best in the world. I am very confident that we will get there. I perceive education as the full development of the human mind, cutting across cognitive, affective and psychological domains. Education goes beyond schooling; it transcends classroom teaching. It is the process of inviting truth and acquiring all round knowledge, skills, values, beliefs and character, needed to become a better citizen.
Quality education throughout life is the birthright of every human being on earth. The right to education is one of the most basic rights recognised in international law and in the laws of every civilised country of the world. Education has long been recognised as both a human right and an indispensable means of realising other human rights. Education is also a principal tool for unlocking prosperity and eradicating endemic poverty.   According to the United Nations, every year of formal education increases an individual's earning capacity by up to 10 per cent. The higher the level of education, the greater the chance of escaping poverty.
Passport to the future
Education is undoubtedly the passport to the future; each page is filled with limitless opportunities. Standing before you today is a living example of the transformative power of education. This is why that Chinese adage states: "If you are planning for a year, sow rice; if you are planning for a decade, plant trees; if you are planning for a lifetime, educate people." Investment in education is the only sure way to the liberation of human minds. As I tell my students, education, especially quality education, breeds discipline, discipline breeds character, character breeds hope, and hope never fails.
Given the intrinsic value of education to human life, environment, prosperity and survival in general, international law has emphasized the right of every individual on earth to quality education.   As far back as 1948, Article 26 of the Universal Declaration of Human Rights proclaimed that: "Everyone has the  right to education. Education shall be free, at least in the elementary and fundamental stages. Elementary education shall be compulsory. Technical and professional education shall be made generally available and higher education shall be equally accessible to all on the basis of merit. Education shall be directed to the full development of the human personality and to the strengthening of respect for human rights and fundamental freedoms…Parents have a prior right to choose the kind of education that shall be given to their children.
The key elements in this Declaration are: accessible, available, affordable and quality education.     In 1989, the United Nations Convention on the Rights of the Child, in Articles 28 and 29, stipulated that primary education should be "compulsory and available free to all". Article 13 of the International Covenant on Economic, Social and Cultural Rights, ICESCR, also recognises the right of everyone to free primary school education and the obligation of governments across the world to progressively introduce "free education for secondary and higher levels.' Articles 13.3 and 13.4 also  require countries to respect the educational freedom of parents by allowing them to choose private educational institutions for their children. These instruments emphasize the need for free education even at higher levels such as the university.
Budget for Education
Although the UNESCO High level Group on Education for All has recommended that every country should spend no less than 15-20 per cent of yearly budgets on education, a spending threshold of 30 per cent of yearly national budget on education has been recommended as necessary for African countries to catch up and address the current infrastructure deficits.
Unfortunately, however, despite perennial rhetoric by successive Nigerian governments on their plans to build world-class universities, many have consistently failed to meet the UNESCO funding benchmark. For example, in Nigeria, the 2017 budget N448.01billion was allocated to education, representing only about six percent of the N7.30 trillion budget. As a signatory to these important international law instruments, Nigeria has a fundamental obligation, as a responsible nation, to fully respect, protect and fulfil the right to education of every citizen, in accordance with the these provisions of international law.