By Vincent Ujumadu
THE South East APC Young Progressives Forum, SEAYPF, has appealed to the leadership of the All Progressives Congress, APC, and its senators and House of Representatives- elect to consider South-East for the position of Deputy Senate President or the Speaker of the House of Representatives in the ninth assembly to ensure equity in the nation's polity.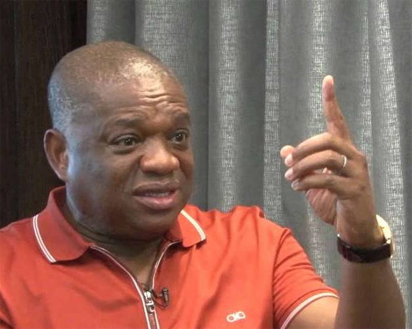 SEAYPF National Coordinator, Comrade Paschal Otimkpu, said zoning the Deputy Senate President or Speaker of the House of Representatives in particular to the South East geopolitical zone would further entrench national integration, peace, harmony and unity.
In a statement in Awka, he said: "It is incumbent on the leadership of the party to consider former governor of Abia and senator-elect of the APC for Abia North, Orji Uzor Kalu as deputy senate president in the 9th NASS or either of Hon Nkeiruka Onyejeocha and Hon Chike Okafor for Speaker of the House of Representatives.
"As hardcore party members and President Buhari's loyalists, with vast experience as a successful former governor, lawmakers and political players, Kalu, Nkeiruka Onyejeocha and Chike Okafor are well positioned for the coveted seats.
"We believe that making Uzor-Kalu the Deputy Senate President or Onyejeocha or Chike Okafor as speaker will not be out of place.
"Hon Chike Okafor is a foundation member of APC and Hon Lady Onyejeocha and Dr Orji Uzor Kalu have proved themselves as true party people. Since their entry into the APC, Uzor- Kalu and Hon Onyejeocha have devoted their energy and resources towards promoting the party's political interests and agenda.
"The result of their commitment is APC winning senatorial, House of Representatives and House of Assembly seats for the first time in a state where APC is likened to a Christian living in an ISIS- dominated area.
"Becoming the Deputy Senate President or Speaker of House of Representatives will further provide them with the platform to achieve more, especially in terms of making APC rooted in the South-East geopolitical zone of the country.
"Apart from their unassuming commitment to the reintegration of the South-East into Nigeria's mainstream politics through the APC, these Nigerians have equally proved themselves as outstanding and detribalized Nigerians."
The group also urged members of the incoming 9th National Assembly from South-East to be good ambassadors of the Igbo nation by resolving to attract more socio-economic development to their states and the region.
The group urged them to establish themselves in the National Assembly as loyal and sincere patriots and work, without compromise, for the overall development of the South East and the country at large.
"There is no time for pursuing personal or self-serving agenda at the detriment of Ndi Igbo in particular and Nigeria in general. All elected National Assembly members from South East zone are expected to align with pro-people agenda of President Muhammadu Buhari…
"One of the key elements of democracy is lobbying. We urge all our lawmakers-elect from South-East to hit- the ground running by working closely with President Buhari and the federal government to identify ongoing federal government projects in order to fast track their completion, as well as attract other strategic projects."
Subscribe for latest Videos