Abuja – A group known as Committee of Youth on Mobilisation and Sensitisation (CYMS) has called on governments at all levels to include youths in the governance of the country.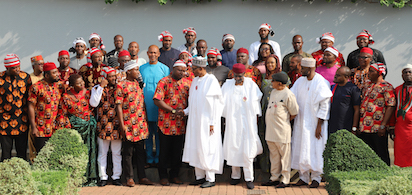 The CYMS made the call in a communiqué signed by the group's Director-General, Obinna Nwaka, at the end of its Post-Election Conference, with the theme: "Youth Inclusiveness in Governance'' in Abuja on Friday.
"It is crystal clear that we have credible and competent Nigerian youths who have proved themselves globally in knowledge and social consciousness and these have enhanced the capacity of the Nigerian youths.
"However, the ability to utilise these assets effectively to drive national transformation will depend on the leadership opportunities available to them.
"We the CYMS, are looking forward for a society where age or gender difference will not be a factor for governance in Nigeria.
"The group has been at the forefront of youth sensitisation and mobilisation across the federation with the view to improving the attitudinal orientation of the Nigerian youths in leadership perspectives,'' he said.
Nwaka recalled that on Feb. 14, CYMS organised a conference in Abuja where various notable youth/student organisations endorsed President Muhammadu Buhari.
The group lauded the Federal Government on the recent approval of N5.5 billion for the training of 60,000 unemployed youths in the country under the N-Power Social Intervention Programme.
"This is indeed commendable and we are looking forward for more development-oriented programmes like this.
https://www.vanguardngr.com/2019/04/nigeria-now-ranks-among-leading-democracies-in-africa-president-buhari/
"We also use this medium to advance an agenda that would enable the Nigerian youths to scale the wall of exclusion in leadership and governance.
"We are calling on the Presidency to beware of political hijackers of appointments, ignore unverified list of groups or individuals for appointments who are only out to reap from where they did not sow," he said.
It also appreciated the efforts of all the group's State Coordinators, Local Government Coordinators, Wards, Polling Unit Agents, Patrons for their supports to ensure that APC won the election to get to the NEXT LEVEL.
"The CYMS is just like a periscope observing and monitoring the political situations during the presidential election.
"The group wished to recognise the efforts of Sen. Bola Tinubu, Alhaji Mamman Daura, Mr Adams Oshiomole, and Mr Rotimi Ameachi, among others, for their doggedness and belief in the leadership of Buhari and Osinbajo's APC led administration. (NAN)
https://www.vanguardngr.com/2019/03/crans-montana-forum-morocco-creating-a-pathway-for-africas-future-siasia/