•Air peace to service all Nigerian Airports
•Commends President Buhari, asks for govt support
By Onochie Anibeze
Allen Onyema walked taller than his height Wednesday in Mauritius when he signed a deal for for 30 brand new Embraer 195-E2 aircraft with an order for initial supply of 10 aircraft. It was a huge investment by global standards. It's worth $2.1b.
The aircraft is a 124-seater jet in dual class and 146-seater in a single class configuration.
Shortly after signing the contract Saturday Vanguard was in touch with Onyema who reacted this way when we asked him what the order meant to him, his airline and the aviation industry in Nigeria?
Air Peace yet to take delivery of B-737-800MAX
" I wish to thank God Almighty for everything. It is down to His love for me and Air Peace. May His name be praised in the highest forever.
I am highly excited at the prospects of having these super jets in our fleet in the coming months.
"Above   all, I am over the moon with the prospects of the massive employment opportunities that would be generated by the 30 aircraft when they all finally come in. This particular order will create over 10,000 job opportunities in our country. We shall take a lot of Nigerians out of the streets and out of poverty. Nigerians of all creed, religion and ethnicity – no discrimination. In Air Peace, there is no Ibo, no Yoruba, no Hausa, no Fulani, etc but one humanity. You can find this out for yourself.
Buhari's teacher, Saida Kaita dies
You asked what else it meant to me?
"I do not think Nigerians understand the extent the activities of Air Peace, since inception,   have gone to launder the image of our dear country. When we ordered ten brand new Boeing 737 Max last year, the world started taking notice of a steady but planned rise of a Nigerian indigenous airline in a country where even a well known owner of one of the most successful airlines in the world failed.
Before the above order, our activities in the aviation market had been proving skeptics wrong, to their positive shock, however. We never shortchanged any foreign entity or local entity, we never told familiar stories when it gets to paying foreign companies and even the locals for goods and services rendered. Most times, they tease me abroad saying, "Are you sure you are a Nigerian?" This could be irritating but we, as a nation, brought it to ourselves through our activities.
"Now, with the present order, the world has stood up for Nigeria in applause. Nigeria has been in the news the world over in the past 48 hours for the right reasons. The world is full of praise for the feat. The country's image is shoring up as a result.
"This is my happiness and am very thankful to God Almighty for using us to touch lives of our people in the most godly way. I am a Nigerian nationalist, I love my country and its people. That's why Air Peace is a mini Nigeria. Nigerians of all ethnicity, tribe and religion are not only working in Air Peace but also have found home in Air Peace."
Allen Onyema was asked he was funding this huge project. Said he:
"Nigerians may never realize the extent to which this airline has gone to improve the perception of foreign financial institutions of our Nation. With Air Peace, foreign entities have gradually started changing their perception of Nigeria and Nigerians. In Air Peace, our most cherished asset is our integrity and we have it in abundance.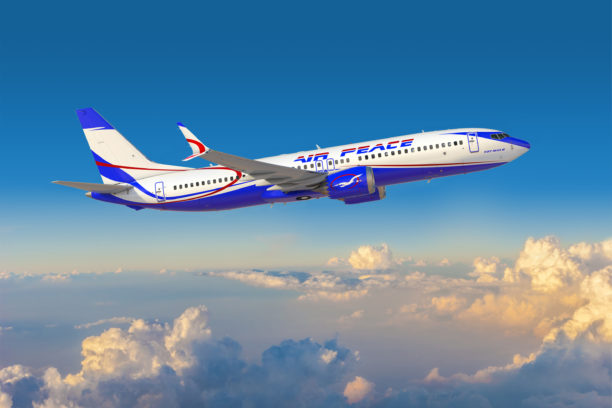 "We have never defaulted in paying back our loans till date. Most times, we have liquidated our loans long before their tenure! It is there for all to see.
"Fidelity Bank PLC is syndicating two major foreign financial institutions to finance the acquisition of the aircraft. These foreign financial institutions plus local banks in Nigeria trust in the ability and integrity of Air Peace to honour obligations to the letter.
"So many foreign financial institutions have been approaching us. This is a good omen for our country and, as such, we should be supported and encouraged by all and sundry for the success of Air Peace is also the success of the government and people of Nigeria. It won't be long before doors start opening for other Nigerian businesses with foreign financial institutions because of the activities of Air Peace.
HOW ABOUT THE CHALLENGES OF LEASING PLANES FROM ABROAD? IT IS A WELL KNOWN FACT THAT NO FOREIGN AIRCRAFT LESSOR WANTS TO LEASE ITS PLANE TO NIGERIA. 
As we speak several major aircraft leasing companies abroad are talking to us. We have about seven of them in discussing with us at present. Nigeria is, in principle, blacklisted by foreign lessors. No one wants to dry lease his aircraft to a Nigerian airline because of the events of the past when a lot of them defaulted. In some cases though, the foreign lessors were not also fair to their Nigerian partners but, in all, many other Nigerian airlines defaulted and resorted to antics that are unsavoury.
2019: Make Buhari, Atiku commit to rancour-free polls-Nigerian Group begs EU, UK, US
With Air Peace, things are changing. We have leased some planes now. With the way we are going, that perception of a fraudulent nation is being corrected by Air Peace on the international arena.
WHERE ARE YOU GOING TO DEPLOY THESE PLANES WHEN THEY COME IN?
We are deploying them to both the domestic and regional routes. We can equally use them to go as far as South of Europe. The aircraft is pure comfort. It has the capacity for 124 passengers in a dual class configuration. That is, it has 12 business class seats and 112 economy seats. The legroom is passenger friendly. The fuel economy is very rewarding. We cannot wait to give Nigerians a totally different flying experience. We want to open up the entire country to economic activities through air connectivity. A lot of the airports in the northern part are either not served or underserved. Air Peace, by the grace of God, will be changing all that this year. We are going to interconnect cities in this country. Why can't the Kano man travel to Enugu directly and back without having to pass through Lagos or Abuja? Why can't the Benin man travel to Port Harcourt by air directly? Why won't Owerri be connected to Jos by a direct nonstop flight? How about Maiduguri? Scanty or no flights at all. No known commercial flights to Katsina.
DO YOU THINK THE AIRLINES ARE RECEIVING ENOUGH SUPPORT FROM GOVERNMENT?
I am very grateful to President Buhari for creating an enabling environment for the growth of aviation in Nigeria through waving customs duties on commercial aircraft, aircraft engines and spares as well as granting value added tax(VAT) waiver for commercial airlines. Without these noble gestures from Mr. President, Air Peace would not have been able to achieve this growth.
Boeing 737 MAX 8: Air Peace CEO frowns at attack on airline
The Minister of State, Aviation, Sen. Hadi Sirika, ensured that the directives of Mr. President on these waivers were implemented and we thank him for his tireless efforts geared towards these. In fact, Air Peace shall reward the President by spreading its wings to every airport in the country beginning with his home state airport in Katsina when some of our recent ERJ145 jets start arriving the country.
We however need more support from everyone, from both the government and people of Nigeria and beyond. Agencies of government must understand that indigenous investors must be supported, appreciated and helped in order to energize the nation's economy. Investors should no be treated with impunity. They are not enemies but partners in progress for the good of any nation. Every government wants to succeed but the activities of some civil service personnel run very contrary to the wishes of the government in power while the unsuspecting public would be blaming one innocent man, the president ! This is very unfair. May we all play our part creditably in any position we find ourselves.