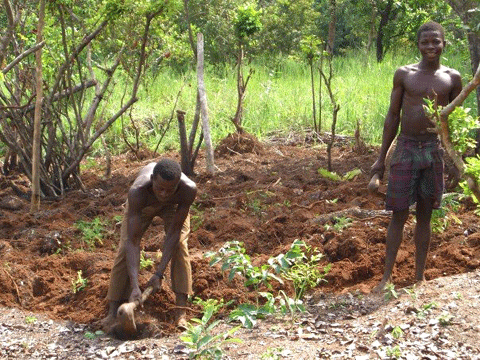 Farmers cultivating cassava. AGRA is working to improve the lots of cassava farmers in Africa.
By Festus Ahon
NIGERIA Agricultural Enterprise Curriculum, NAEC and Market Development in Niger Delta, MADE, have said that they impacted on 323, 000 farmers in the Niger Delta region in 2018.
Dr Yemi Olukuyide of NAEC who spoke during a one day workshop for stakeholders on learning and dissemination held in Asaba, said farmers' service providers who have embraced the initiative have received about 20-30 per cent profit increment compared to competitors who have not embraced the programme.
Olukuyide said NAEC  has a technical component which helps equip farmers with the proper knowledge while the enterprise component teaches the farmers on how to run their farms as a business.
The Poultry Intervention Manager of MADE, Ayo Momodu, said "MADE works with pharmaceutical companies which are already providing vaccination drugs and services in commercial cities. We help them to develop their distribution channels so they can reach smallholders poultry farmers.
"I will say that MADE has been very successful. We have reached out to over 150, 000 farmers in the first phase which ended in 2018. We are already in phase II, and our target is to reach 155, 000 people with increased income."
The Intervention Manager, fishery sector of MADE Project, Roy Ndidi, on his part, said "We try to identify constraints which mitigate the growth of different sectors across the value chains we work with. We work across agricultural value chains."
it cuts across palm oil, fishery, agro-input, cassava and poultry, addressing those constraints, catalyzing change from those constraints into positivity for the sector ultimately improving and increases the incomes of the poor farmer."