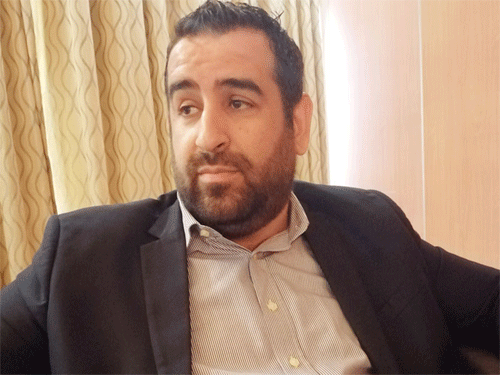 Amine Djouahra
By Prince Osuagwu, Hi-Tech Editor
In apparent celebration of four years of operating in Nigeria, professional and consumer imaging equipment and information systems provider, Canon rolled out four new products, including professional cameras, printers among others. Senior Manager, Sales and Marketing, B2C, Canon Central and North Africa, Mr. Amine Djouahra, was later to tell Hi-Tech that the measure was to celebrate the huge potentials of Nigerians in the company's employment and the growth prospects the Nigerian market offers to its business.
Djouahra said his company not only took the risk of investing in Nigeria in 2015 when the economy was in dire stress but also turned down strong advice against employing Nigerians. However now, he is expressing happiness that both the economy and their Nigerian employees have turned out to be the magic wand Canon needs to grow rapidly
Excerpts:
You ventured into Nigeria when the economy was a bit stressful for many businesses, what gave you that courage?
Experience!  As multinational, we are not new to risk factors in business. The time we came to Nigeria in 2015, was during the fluctuation of naira and difficult moment to access dollar for some transactions. However, as business people, we were faced with a decision to open shop or pack up. But we invested without allowing the risk factors to discourage us. Yes, we went through difficult time during the period, but we had since overcome that.
Again, at the beginning of our operations, we were strongly advised not to recruit Nigerians in order to make fast turnover in our business. But we went against that advice. Today, we have over 60 employees in our Africa operations, including Nigeria, Ghana, Kenya, Algeria, Morocco, Egypt, and Cote de'Ivoire. We were very fortunate to have recruited Nigerians in our Nigerian operations, because Nigerian youths have proven themselves to have huge potential with high level of education. They are instrumental to the success we have recorded in the Nigerian market so far. We are proud of them. Now, the business is becoming exciting for us and we are looking forward to business growth. In fact, we have come to stay in Nigeria.
Within a short time you've launched two photo competitions in Nigeria, what brand statement are you making?
They are part of Canon's efforts in inspiring cinematography talent in the country. Besides that, we discovered that the engagement of Nigerians on the social media platform in relation to video and photo is quite high.
In the first competition, we were looking for Nigerians that can tell their own stories, using photos in categories like culture, lifestyle and what makes Nigeria tick among others. The stories we got were compelling. So, we decided to launch another campaign for professional photographers to express themselves and tell their stories through photographs that will be uploaded for the competition. We call it #Mynaijamycanon.
We have since discovered that Nigerians and indeed Africans, are seriously interested in photography and film-making, so we started a training programme in 2014 in Kenya. Since then we have trained over 4,800 people in five African countries, and out of that figure, more than 1,000 are Nigerians.
Training them was the first step because some of them graduated to become business partners to Canon and some were certified as Canon trainers and they are involved in delivering training programmes for Canon in different African countries, while others established their own photo studios and sales shops. This is one of the ways that Canon is empowering people in countries it operates.
The products you just launched?
Canon uses them to reiterate commitment to the Nigerian market. The products are the EOS R Camera, the PIXMA TS9540 Printer and the ZOE MINI Printer. The new range of printers and the camera are poised to expand Canon's imagery range in Nigeria and help customers manage productivity.
The EOS R System is redefining the frontiers of photography and film-making. Its new RF lens mount has been engineered with the perfect blend of optical, mechanical and electronic design to capture unique moments previously seen as very challenging.
The Canon PIXMA TS9540 is a compact All-In-One inkjet printer that is capable of A3 printing, with a comparable A4 printer footprint. It delivers professional results with the help of Canon's class leading fine print head technology and its five individual inks give photos a rich gradation and up to a 100-year album life.
Blackberry back in Nigeria with Key2 smartphone
The ZOE MINI is Canon's smallest and lightest Mini photo printer, the perfect accessory for those who enjoy taking photos and sharing treasured moments with family and friends. It features ZINK technology, meaning zero ink is required.
They are all digital products designed for the Nigerian market. They will aid digital revolution, especially in the Nollywood industry.
After-sales support?
Besides having extended warranty for all our products on sale in Nigeria, we also signed a third party service agreement in 2016, with partners to service and repair faulty cameras locally in Nigeria, and this initiative has saved time and cost for our customers. They are technically trained and supported by Canon. So we have collection points in almost all the cities and towns of the country, from where we pick up faulty cameras that have been recorded for repairs.
We are also aware that people bring in used Canon cameras from other markets and try to sell them in the Nigerian market as new Canon products, but such products do not have the status of Canon warranty. So we are working to raise awareness on the actual new products from Canon and those that are grey.