By Godfrey Bivbere
Truck drivers are currently paying about N150,000 as a bribe to security agents posted to control traffic between Mile 2 and Tin can Second Gate to be allowed passage, a truck manager,  Ikechukwu Amago, has alleged.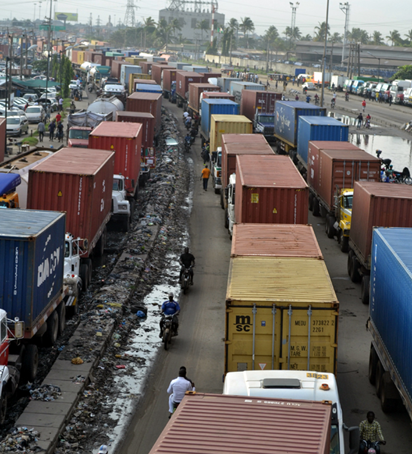 In an exclusive chat with Vanguard Maritime Report in Lagos, Amago said there are about 10 to 12 security checkpoints between Mile 2 and Tin can Second gate where each truck is expected to part with some amount of money before they are allowed passage.
He said the amount ranges from N10,000 to N20,000 at each security checkpoint.
Vanguard Maritime Report's investigation revealed that there are cases where truck drivers are given an account number to deposit the amount for all the security checkpoints from where it is then wired to each checkpoint.
On several occasions, Vanguard Maritime Report has seen trucks escorted by military men on motorbikes popularly referred to as "Okada" through each checkpoint.
At each of the checkpoints, there are civilian accomplices who take records of each that gets access through the point.
A source close to the leadership of the  Association of Maritime Truck Owners,  AMATO who spoke to Vanguard Maritime Report about the record keeping, stressed that at the end of each day it helps them reconcile and determine the sharing formulae.
The source revealed that each security checkpoint makes between N150,000 to N300,000 daily and that those who pay N10,000 to N20,000 are the ones that get express passage.
The source says there are others who follow the queue and part with N500 to N2,000. He further disclosed that the reason why the road gets blocked most of the time is that in an attempt to pilot these trucks across; too many trucks are allowed passage, resulting in the traffic logjam.
Recall that the National President of AMATO, Remi Ogungbemi, had early told Vanguard Maritime Report that he has heard of the electronic transfer of money to security personnel mounting the various checkpoints but that he has not seen any case, he noted.