as Falana flays inclusion of electoral fraudsters in rerun elections
By Levinus Nwabughiogu
ABUJA-Following the incessant high cases of electoral offences in Nigeria, the Independent National Electoral Commission (INEC) has proposed a fine of five hundred thousand naira or three years imprisonment or both for persons convicted of vote buying and selling.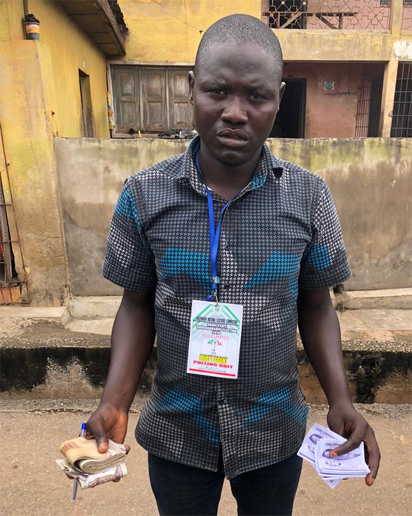 The Commission said that the adoption of the measure would in a greater way curb the menace.
Chairman of the Commission, Professor Mahmood Yakubu disclosed made the disclosure at the 9th Forum of the Anti-Corruption Situation Room, organised by the Human and Environmental Development Agenda (HEDA) held in Abuja on Wednesday.
Represented at the event by the INEC National Commissioner and chairman, Information and Voter Education, Festus Okoye, Mahmood said decried the embarrassment the commission has had to face from international community.
He urged the National Assembly to evolve new legislations to curb the ugly trend.
The chairman also appealed to the parliament to expedite action on the Electoral Offences Commission Bill, underscoring the need for a separate agency to be given the responsibility of investigating and prosecuting electoral offences and offenders.
He said: "The National Assembly should isolate vote buying and selling and properly define it, it varieties and ingredients and make it a separate item in the Electoral Act and provide sanction for violation.
"The punishment for vote buying should be increased and made stiffer to act ad deterrent to buyers and sellers. Those that commit the offence of buying and selling should be made to pay a fine of N500,000 or be subjected to three years imprisonment or both.
https://www.vanguardngr.com/2019/04/i-am-fulfilled-with-outcome-of-2019-elections-in-kwara-rec/
"Restriction on the use of smart phones in the polling units should be imputed into the Electoral Act and violators should be liable on conviction to find of N500,000 or three years imprisonment or both".
Also speaking at the event, the chairman of the event, Mr. Femi Falana (SAN) said that candidates indicted for electoral offences by Election Petition Tribunals, should be stopped from taking part in rerun elections, where the polls are nullified.
"Where people are indicted for committing electoral offences, if you are going to have a rerun, it is inequitable to allow such persons to contest the election; that is like rewarding criminality. All the governors who were indicted in election in the past were allowed to take part at the rerun election. In our laws,you are prohibited from benefitting from fraud. We should take that to the election petition tribunals," he said.
https://www.vanguardngr.com/2019/04/the-death-of-democracy-in-nigeria-a-coroners-inquest-6/