•Also presents N75m jeep to wife, N3m to Nollywood actor
•Day God came down to Mercy Land in likeness of men
By Oritsefemi Godswill
It was a beehive of activities Sunday March 31, 2019, when eminent Nigerians, including scores of Nollywood stars, graced the special service organised by the General Overseer of Christ Mercy Land Deliverance Ministry, Effurun, Delta State, Prophet Jeremiah Omoto Fufeyin.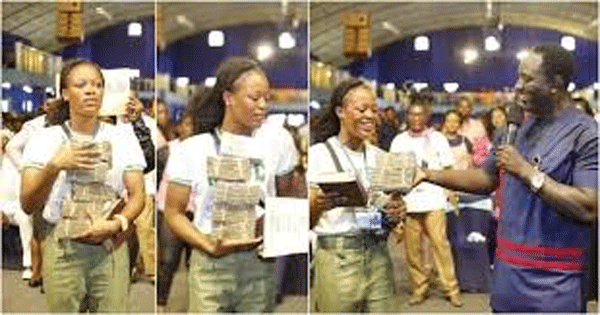 The occasion, which coincided with the dedication of the General Overseer's new baby, Christened Greatness, recorded worshippers from the US, Germany, Canada, Italy, United Kingdom, Austria and Kenya where Pastor Lucy Natasha came from.
In her sermon, Natasha enjoined Christians to be fervent in prayer and in the worship of God in spirit and in truth.
Actress Onyii Alex gives new meaning of 'sexy' in birthday photo shoot
Natasha, popularly known as the 'Oracle of God', described Fufeyin as a great man who God has sent to save many souls.
She admonished Christians, especially members of the church, to always believe in Fufeyin who she further described as a force to be reckoned with as the anointed God's general in Christendom.
The Kenyan preacher reminded the congregation that the General Overseer is made for signs and wonders.
Eulogising women for their steadfastness in propagating the word of God, the cleric maintained that women should be ready at all times to be called upon to preach the gospel, insisting that it is not only men that are ordained to do the work of God.
Fufeyin, in his speech, told the congregation how he started his life as a local filmmaker at Ojobo, his home town, and later became a wrestler in Burutu, Delta State.
"I have always been interested in filmmaking, especially when Nollywood came. I did not hide my passion for Nollywood, hence I always invite some of the actors any time I am holding special service such as this", the General Overseer said.
He enjoined Nigerians, especially the less-privileged, not to despair and cited his case as an example of somebody who could not afford good living in his early life.
Comedian I Go Dye pledges service to humanity as he clocks 40
"Above all, my uncle, who was a Deputy Governor in Bayelsa State, and also my wife were my sources of courage", stressed the prophet, who on the occasion handed over a N75 million Lexus jeep as a gift to appreciate her steadfastness and dedication as a true partner and wife.
He commended Nollywood stars for their resolute in the film industry, and urged them not to give up and donated N3m to one of the Nollywood actors, Leo Mezie, who is down with kidney problem and also sent a pack of healing water to him to get well fast.
One of the highlights was the donation of N2 million to Miss Stephanie Rukevwe Idolor, a graduate of Auchi Federal Polytechnic who brought the little girl, Success, to limelight.
"I was thinking of erecting a building worth over N54 million for the school in which Success was brought to limelight but God told me to come up with other assistance hence I decided to give the N2 million to Stephanie to appreciate her as nobody is thinking towards that direction", he said.
"It is a pity that everybody is focusing attention on Success but nobody bothers to know how and who brought her to limelight, hence I have decided to appreciate her with a token of N2m".
The General Overseer commended Segun Arinze, Kanayo .O. Kanayo, Ukwa, Chiwetalu Agu, Rita Edochie, Uche Elendu, Frank, Dallas Aki and a host of others for their presence and promised to continue to be identified with the Nollywood actors and actresses.