By Ugochukwu Abaribe
ABA—The Coalition of South-East Youth Leaders, COSEYL, has said that the All Progressive Congress, APC, was unfair to Ndigbo by refusing to zone the senate presidency position to the zone.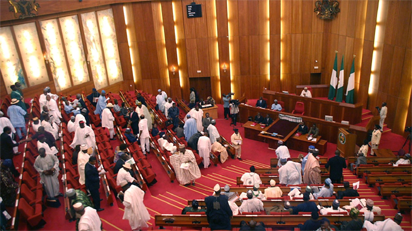 The group lamented that the APC has continued to deny the Southeast a fair share even when the zone recorded a massive support by electing more senators and members of the House of Representatives than it did in 2015.
It urged President Muhammadu Buhari and the APC national chairman, Comrade Adams Oshiomhole to ensure that the party does not deny any zone its due in the sharing of national positions.
In a statement signed by its President, Chief Goodluck Egwu Ibem; Secretary, Dr.  Igwe Kanice and Publicity Secretary, Hon. Joshua Nnamani, the group vowed that Ndigbo would no longer allow itself to be relegated to the background.
"Looking at the manner in which the APC has been sharing its position, we make bold to say that the party has been too parochial. It has failed to act as a true national party. The APC has been unfair to Ndigbo. In 2015, the APC said we didn't elect a senator who could have been made senate president. Now, in 2019, the APC recorded  victories in the South East .
"Instead of zoning the senate presidency position to the South East and anointing one of the ranking senators, the APC is again giving reasons.
"How can the APC zone the senate presidency to the North West where it adopted Senator Ahmed Lawan, leaving out the Igbo which is one of the major tripods on which the Nigerian federation stands? We will not allow this great injustice to stand. There are qualified Igbo senators from the APC such as Dr. Orji Uzor Kalu who has the capacity to excel."
as senate president. Dr. Kalu is a consummate politician with the strength of character to take the legislative arm of government to greater heights. He will add great value to the Buhari administration."
The group urged the APC to address the injustice meted to the South East in the interest of peace, harmony and stability of Nigeria.