By Vera Anyagafu
Ahead of the general elections in India, the Overseas Friends of Bharatiya Janata Party (OFBJP), Nigeria chapter, has appealed to about 900 million Indian electorate who would participate in the April 11 and May 19 polls to vote en-masse to ensure President Narendra Damodar Modi's victory.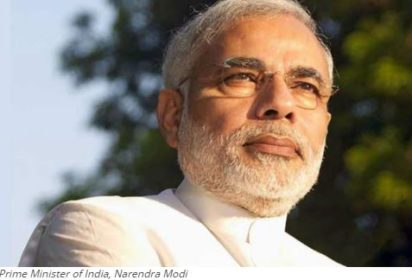 Sanjay Srivastava, President, OFBJP Nigeria chapter, who made the appeal while briefing journalists in Lagos on Tuesday about the steps taken by the association to ensure that Modi is re-elected, said that India's Election Commission, an autonomous constitutional body, is set to manage the complex election process in the most transparent, free and fair manner.
In the plea, tagged: "Appeal Indian Voters to Vote and Support BJP #VOTE4NAMO," Srivastava stated that Indians living outside the country are also exuberant and connected to their country of origin for this democratic process.
"Indian community, living across the globe in hundreds of countries, is in itself a big constituency and the current government, in the leadership of Prime Minister Narendra Modi, Minister of External Affairs, Sushma Swaraj and Minister of State External Affairs, VK Singh, has excellently connected with them," he said.
While commending India's current administration over its agility in delivering democracy dividends right from assumption of office and for making Indians living abroad to have a proud community, the association's president lauded the tremendous progress in foreign ties that the government has made ensuring meaningful win-win relationship with many countries.
He said that the last India-Africa Forum Summit (IAFS), which was attended by 54 countries on the continent, was a ground-breaking event, adding that it is a testimony to Modi government's commitment to ensuring progress of the country.
Srivavasta listed the government's achievements to include delivery of infrastructure as road, power, railway and space; cultural change initiative, 'Swachh Bharat Mission- Sanitation Project' aimed to enhance cleanliness, eliminate open defecation and improved hygiene, and decline in child mortality rate.
He noted that Nigeria's Minister of Water Resources has borrowed a leaf from this grand India's initiative, adding that very soon, Nigerian officials will study this and adopt the same in Nigerian context.
Indians in the Diaspora pride in the success of Modi's government as it has improved tremendously across the globe due to his multi-dimensional engagements with various governments and Indians living in those countries, Srivavasta said.
He noted that Indians in the Diaspora are excited about the general elections and are doing their best to re-elect Modi so that his development programmes can continue, adding that they believe that India can make huge economic and social progress under the dynamic and charismatic leadership of Modi.