By Benjamin Njoku
Some awe-inspiring musical performances, laced with thought-provoking storytelling, awaits Nigerians this season as this Easter's edition of 'Queen Moremi The Musical' stage play, makes a comeback in Lagos.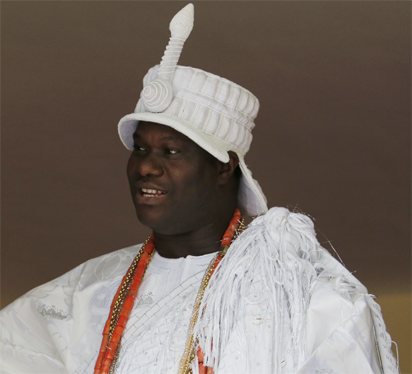 Slated for the Terra Kulture Arena, Victoria Island, Lagos, prominent personalities in society, royalty, business, politics, theatre and drama have been confirmed to participate in the event, which runs from April 18 to May 5, 2019.
His Imperial Majesty, the Ooni of Ife, Oba Adeyeye Ogunwusi, will headline a distinguished audience of traditional and community leaders to the event on April 22, in affirmation of his passion to support women in leadership, as symbolized by the exploits of Queen Moremi, over 1,700 years ago.
Executive Producers of the event – the House of Oduduwa Foundation, Rejevenee and Bolanle Austen-Peters Productions in a statement, said arrangements have been finalized to ensure a breathtaking event. Besides reinforcing the fact that performance is central to human experience, underlining the event is the re-enactment of the life and times of Queen Moremi which illustrates the pivotal role of women in societal development and to enable the younger generation, especially women, to recognize and aspire for leadership roles in society, which stood out the Queen in the history and liberation of Ile Ife town.
Moremi the Musical: Bimbo Manuel, Femi Branch, others thrill Ooni in Ile-Ife
Queen Moremi Ajasoro, it will be recalled, was a courageous, selfless beautiful woman from Ile-Ife.
Following incessant raids by a neighboring tribe and with Ife under siege, she took the heroic step of offering herself to be captured by the raiders. The goal was to be taken prisoner and be taken to the land of the marauders for intelligence gathering. The attempt worked as her beauty and intellect enchanted the King of the Ugbo tribe who married her and she became Queen. She learned the secrets of the raiders which the Ife subsequently exploited to achieve victory.
Moremi the Musical is a story of love, faith, honour and the ultimate sacrifice. Screen stars are set to take over the stage with their electrifying performance which is known to have fully enthralled the whole of Nigeria the previous season.
According to the Moremi of Yoruba Land, Chief Mrs. Olufunso Amosun: "I know fully well that I am not worthy to hold a candle to the magnanimity of the Queen Moremi, the heroine being celebrated. I therefore take solace in the belief that promoting the legacies of Queen Moremi provides the unanimously acknowledged facts, and celebrate all women that believe in and represent core values of womanhood, women that exemplify and promote integrity, dignity, courage, hard work, sacrifice, contentment, justice, humanity and love."