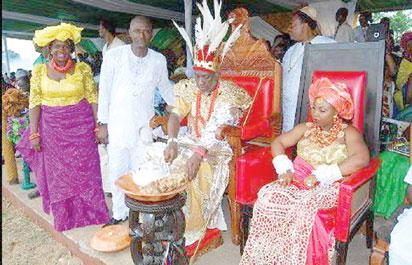 Igwe Obosi during the ofala
Awka – The Umuezechieamalu Family of Obosi Kingdom in Idemili North Local Government Area of Anambra has rejected the suspension of their representative, Chief Hyacinth Udemba, from the King's Cabinet ("Eze na Ndi Ichie Obosi").

The family which expressed their rejection on Friday after they met to deliberate the matter.
It will be recalled that Obosi monarch, Igwe Chidubem Iweka, had in March suspended three members of the cabinet for allegedly joining domes youths to take dead bodies of two Obosi youths to his palace.
The act, he said, was considered sacrilegious as Obosi customs forbids the traditional ruler from seeing human corpse.
Others suspended were Chief Osita Chidoka (Ike Obosi) and Chief Linus Mgbakaogu (Atta Obosi).
But the Umuezechieamalu Family in a statement by Mr Obiora Arinze and Mr Tony Arinze, Chairman and Secretary respectively, said they were disappointed with the way the they had been treated in spite of their contributions to the traditional institution.
They noted that members of Ndi Ichie had immunity from committing sacrileges as the customs of Obosi covers them under ("One abu Nso"), adding that only the particular family that performs cleansing rites had the right to declare an act a sacrilege.
"It is therefore, painful that the only reward for the indispensable role we have the in crowning of Eze Obosi has in recent time been the impunity of arbitrarily suspending of our Ndi Ichie without reference to our family being stakeholders in kingship institution
"In view of the above, we disagree with the suspension of "Akamkposi Obosi" by a nonentity in the Eze na Ndi Ichie relationship.
"We wish to state that the Igwe has been proved not to posses the powers to suspend or expel Ndi Ichie Obosi as earlier attempts were unsuccessful and of no effect whatsoever," they said.
Umuezechieamalu Family therefor, calls for the immediate reversal of the suspension and urged that due process be followed if there was need.
https://newlive.vanguardngr.com/2019/02/inclusive-government-will-expedite-a-rebound-in-capital-market-economist/
"We urge the public to discountenance the various media propaganda by any individual or group which are meant to tarnish the image of our well revered son, obviously to divert attention from the heinous crimes and murders going on in our community.
"Finally, we pray that men of good conscience and you Igwe should initiate a process that will resolve the various escalating crisis in Obosi to enthrone peaceful co-existence among our people," they said. (NAN)
https://newlive.vanguardngr.com/2019/01/curb-unemployment-crisis-to-check-security-challenges-obi-of-onitsha-tells-fg/