By Evelyn Usman
The 9th edition of the multinational sea exercise code-named Exercise OBANGAME EXPRESS, flagged off a forth night ago, with 33 countries' navies, among them, the US Coastal Guard and regional organizations participating, in order to achieve a common goal of fostering regional cooperation and information sharing among navies in the Gulf of Guinea , towards tackling maritime criminalities in the corridor.
It is no longer news that oil made the Gulf of Guinea , GoG region susceptible to criminal activities. Unfortunately, these threats pose adverse security implications on the region generally, as this corridor has been bedeviled by various forms of illegalities ranging from piracy, kidnap of sailors, crude oil theft , illicit trafficking of drugs and weapons, among other maritime crimes.
Gradually, these maritime threats began to overwhelm respective navies of countries in the region, just as they also have adverse effect on their economics, as well as those of other countries which ships use the corridor as passage to transact one business or the other.
To address this scourge, several attempts were made by the affected countries, such as the the establishment of the Gulf of Guinea Commission through a Treaty signed in Libreville, Gabon, on July 3 July 2001 by Angola, Congo, Gabon, Nigeria and Sao Tome and Principe. It constituted a permanent Institutional framework for cooperation amongst the countries bordering the Gulf of Guinea, in order to defend their common interest and promote peace and socio-economic development based on the bases of dialogue, consensus, ties of friendship, solidarity and fraternity.
https://www.vanguardngr.com/2019/03/piracy-on-nigerian-waters-the-truth/
However, this effort was partially truncated owing to lapses on information gathering and sharing among nations, in the event of ships hijack by pirates, as well as absence of capacity building for regional maritime security operations.
It was against this backdrop that Exercise Obangame Express was initiated by the US Naval Forces Africa , in 2010, with the aim to exercise each of the participating counties capabilities in Maritime Domain Awareness, MDA and Maritime Interdiction Operations, and also to demonstrate and evaluate Maritime Operation Centres , MOC to tactical unit interoperability.
This year's exercise was hosted by the Nigerian Navy under the watch of the Chief of Naval Staff, CNS Vice Admiral Ibok-Ete Ibas, with the objective of improving on the gains of previous editions.
The exercise comprised two aspects: the shore based training and familiarization aspect and underway aspect, with 33 countries' navies participating. The countries, were divided into five zones: A, D,E, F and G, with each zone carrying out its exercise , in its route in the GoG.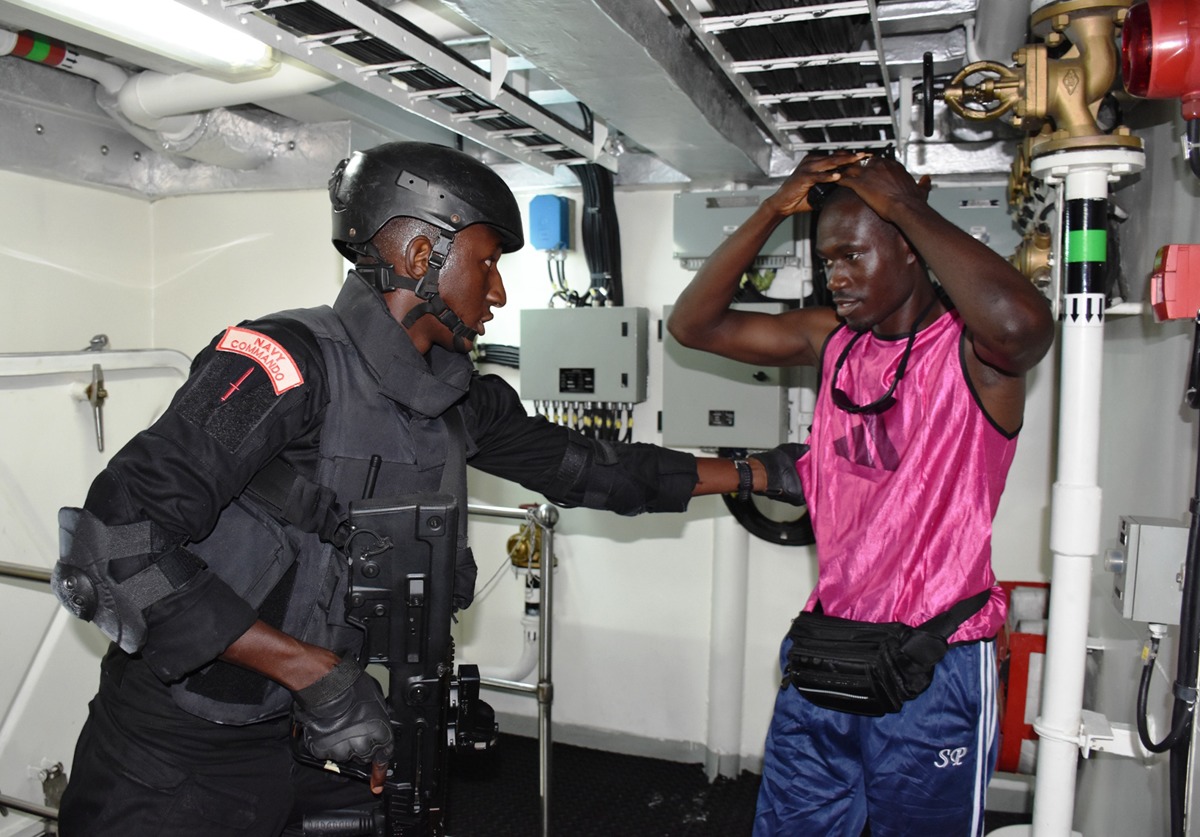 Nigeria and countries like Benin Republic Niger and Togo fell under zone 'E' , with Vanguard Maritime Report playing guest in one of the Nigerian Navy warships, NNS Centenary, during the five-day sea exercise carried out within the Western Naval Command Area of Responsibility ,in the Gulf of Guinea. Three nations ships: the US Coast Guards, Portuguese and Morroccan Navy ships operated with eight NN vessels , two Nigerian Navy helicopters and one Air Force Maritime Patrol Aircraft.
Exercises conducted included: Search and Rescue operation, where a simulation exercise was conducted to assess the navies Special Boats Service tactics. There were also excises like Anti piracy, hostage rescue operations, Tactical fleet maneuvers, helicopter landing and mock medical evacuation; Anti arms smuggling, ship formations and gunnery exercise.
https://www.vanguardngr.com/2019/02/piracy-and-high-seas-crime-becoming-more-sophisticated-un-security-council-told/
Addressing journalists on board NNS Centenary, on the gains of the exercise, the Fleet Commander, Western Fleet/Officer in Tactical Command, OTC of Exercise Obangame Express 2019, Commodore Dickson Olisemenogor, explained that the exercises were basically to test naval personnel abilities to cooperate amongst themselves , especially the Maritime Operation Centre , MOC located around countries within Nigeria's region.
He said through the exercise, the NN achieved a lot in human capacity development, adding that the exercise was also aimed at bringing them(naval personnel) at par with what was going on in the Naval operations.
The exercise according to him, exercise had also enhanced communication among members countries .
On his part, the Commanding Officer, NNS Centenary, Captain, Adedotun Ayo-Vaughan , said the exercise had been able to bring nations of the Gulf of Guinea and foreign partners together, as well as helped in information flow.
He recalled that before the exercise started nine years ago, countries were restricted from chasing erring vessels into another country's territorial water, a practice he said was in accordance with international law.
In his remark, the Team Commander, Nigerian Navy Special Boat Service, SBS Lieutenant Commander Ayo Pacheco, who described this year's exercise as the best so far, said it had brought out their operational capabilities and had also improved them in all aspects, especially in the level of cooperation in their tactics.
Milestone achievement
It is noteworthy to add that a milestone achievement was made while the exercise lasted. This was the commissioning of the Maritime Domain Awareness (MDA) Training School in the Western Naval Command, Apapa area of Lagos.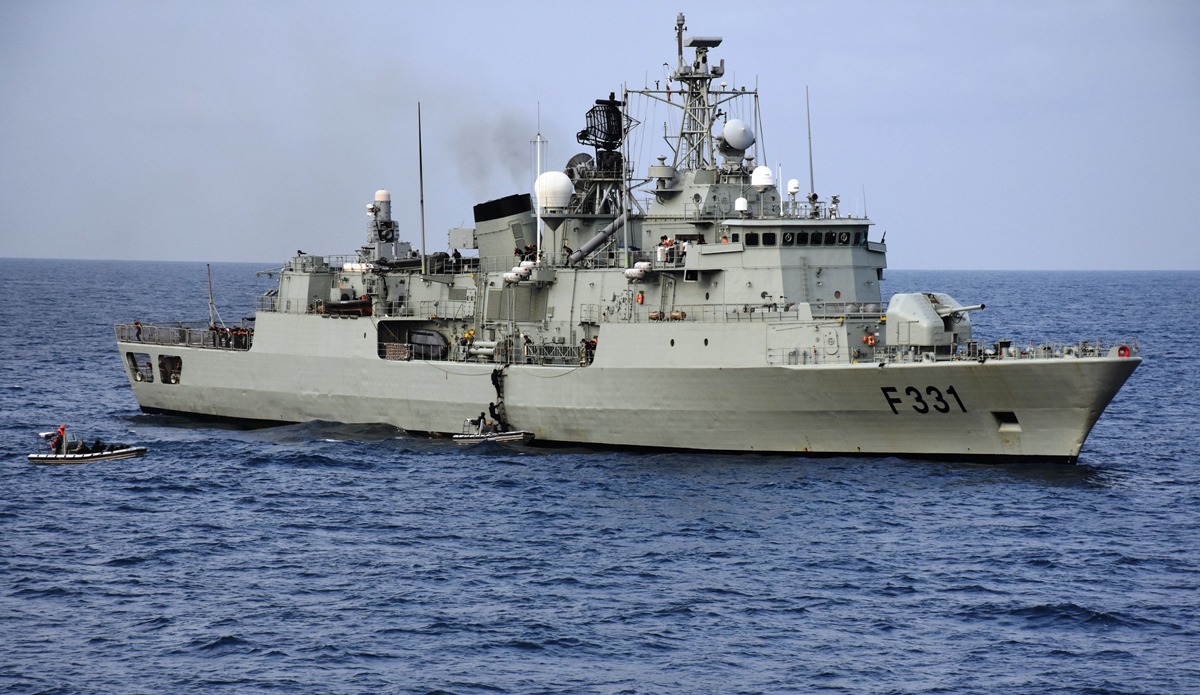 Although, the building housing the school was provided by the NN but it was equipped by the US Government, for training of personnel of the NN and other navies of the GOG in the operations and technical aspects of MDA, maritime surveillance and the operationalisation of the Younde Accord.
Assessing the gains of the exercise since inception, at the closing ceremony held at Naval Dockyard, Apapa, the Commander, US Naval Forces Africa , Admiral James Foggo, scored the NN an 'A' , describing the exercise as a mile stone success when compared to others.
He said, " I score this year's exercise hosted by Nigerian Navy an 'A' plus. First of all ,we have 33 countries coming together , with 2500 personnel from navies and Coast Guards from the Gulf of Guineas nations, Europe, Cabo Verde, and North America , participating in maritime domain security .
" We did over 85 exercises in the last couple of weeks. We had 95 ships, some big like yours(Nigeria's) NNS Thunder and some, much smaller like patrol crafts . We had 12 aircrafts that participated in providing intelligence surveillance.
" I observed an incredible progress over the nine years period of time. Before now, w e did not have African maritime operation and there was no cooperation along the lines of borders between nations of the Gulf of Guinea . We also did not have lot of equipment like ships, raider, etc.
"But since this exercise began, we've had the Yaounde code of conduct which deals with maritime security in the Gulf of Guinea. Countries collaborate much better now than they did back in 2010 because vof the existing relationship through Obanganme express, every year. The difference is like night and day, we've made incredible progress.
He disclosed that for the first time , drug sniffing dogs participated in the sea exercise as well as navies Special Boat Services.
In his remark, the Minister of Defence, Mansur Dan Ali, noted that before now, security threats in the maritime domain posed an increasing policing demand for navies in the Gulf of Guinea region. He added that the capability gap among navies of the Gulf of Guinea region gave rise to greater international collaboration and inter-agency cooperation across various national capabilities.
" It is against this backdrop that Exercise Obangame Express has remained relevant in developing the capabilities of various navies and coast guards in the GoG corridor"., Ali who was represented by the ministry's Director , Navy, Mr Patrick Ekawu said.
Declaring that no Navy or Coast Guard could confront security challenges in the region alone, the Minister said , " the magnitude of most maritime threats and their inter-connectedness, coupled with the fact that they provide such a diversity of impacts demand that we keep coming together to fashion collaborative framed responses".
Also in his remark, an elated Chief of Naval Staff, Vice Admiral Ibok-Ete Ibas , expressed gratitude to all international partners for the success of this year's exercise which he said was flagged off with the objective of improving on the gains of previous editions.
He disclosed that the NN was already closing ranks to confront maritime criminalities in its domain, with the arrest of 80 vessels, over acts of illegalities, within the last three years.
Two of the arrested vessels: MT TECNE and MT NIPAL according to him, were caught in the act stealing crude oil from the crude oil loading facilities in years 2017 and 2018 respectively.
He revealed that 30 vessels were arrested in 2018 for allegedly involving in various forms of illegality in the Nigeria's maritime domain.
This he said, " indicates on the face value a downward trend ,when compared to 37 and 45 arrests recorded in 2016 and 2017 respectively. These arrests have served as deterrent and helped support the huge national dependence on the maritime economy. With the benefits of this exercise which has further sharpened our skills, we look forward to greater achievement over past efforts".
The CNS, expressed optimism that participating counties would return to their various countries and build on the experiences gained during the exercise.
Subscribe for latest Videos