…As 3 graduate with 4.96 CGPA each
By Elizabeth Uwandu
The University of Lagos, UNILAG has recorded twain milestones at its ongoing 50th convocation ceremony, as a 77 years old woman, Mrs Bridget Obiageli Okonji bagged Bachelor of Education, Guidance and Counseling. This is just as three students unanimously clinched the best graduating students prizes with a Cumulative Grade Point Average, CGPA of 4.96 each.
Speaking with Vanguard, the septuagenarian said she decided to seek for more education to help the society and encourage others who feel that they are too old to seek education.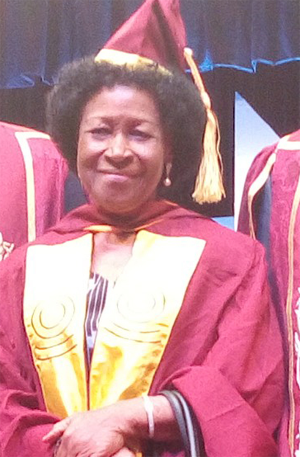 Okonji who declined to give details of herself because she had traveled wide, however said, "I am a retired officer and when you retire you do not have to stay at home dying.
She said: "I studied guidance and counseling and I am most grateful to God Almighty who made me to see this day.
To the septuagenarian, it was better she spent the rest of her life learning than staying at home doing nothing. According to her,
" It is better you go out and seek for education than staying at home at your old age doing nothing for yourself and the society."The more you are educated, the more valuable you are to the society," she said.
Explaining the motive behind her seeking for education at her late 70s, the grandmother said that the value of education can not be overemphasized in ones life and in the society. She believes that if she is educated, she would be able to encouraged other who think they are too old to be educated.
She said with her late education, those in her shoes would now believe that there is no age limit of education.
"Why I came for more education is to help the society and encourage others that feel they can not have education due to age. This is because education has not limit. It is from cradle to death. " Okonji explained.
Okonji who urged parents to make the education of their children a priority, maintained that when children missed out in early education, its never too late to further when they are old.
She said though studying in old age has its own challenges, insisting that there is no price too high to pay to acquire any level of education.
Her words: "Having a lot of children and refusing them to go to school is not fair. Any woman that has the opportunity to have a child must bring that child up wellso that the society will be happy. Because any child not brought up academically will make the society to suffer.
Meanwhile, for the first time in the history of UNILAG, the trio, Adeyeye Oluwaseyi Adeniyi, B.sc. Insurance; Ogbechi Daniel Chinaedum, B/Sc. Business, both of Faculty of Management Sciences while Ekeh Ogechi Joedicta, B.Sc. Pharmacy, from Faculty of Pharmacy all emerged overall best graduating students with 4.96 CGPA.
Earlier in his opening remark, the institution Vice Chancellor, Prof. Oluwatoyin Ogundipe while giving the breakdown of graduating students said the school was poised to taking tertiary education to the next level.
According to him, " I intimated you of the major thrust of the university under my administration during the last convocation. I am glad to inform you that we are on the path to making the University of Lagos greater than the best. This is because we have pursued uncompromising academic standard; local and global networks; innovative fund raising mechanisms; transformation and transnational leadership; and accountability in all university processes.
" Our faculties have worked tirelessly to attract more grants to enhance research and teaching. Over N1billion has been won in grant by various academic staff among others.
https://www.vanguardngr.com/2018/10/nike-grammar-school-alumni-association-earmarks-10m-for-school-projects/
Giving the total number of graduates for degree programmes, UNILAG VC said, " We have a total of 3,795 students graduating with various degrees today. Out of this figure an overall total of 104 students finished in the First Class Honours category; comprising four(4) from the Faculty of Arts, twelve (12) from the Faculty of Education; twenty-two(22) from the Faculty of Environmental Sciences; forty-eight(48) from Faculty of Social Sciences; and eighteen(18) from Faculty of Social Sciences.
" We also have a total of 1,320 students graduating with Second Class Upper; and 1,600 students with Second Class Lower; 615 students with Third Class and 99 with Pass degrees." he stated
While inducting the new graduates into UNILAG alumni association, Mr John Momoh, President of the association called on the students to be great ambassadors by playing dominant roles in the institution.
Momoh who is Chairman, Channels Television," You are brand ambassadors and the world awaits you. I am delighted to inform you that your Alumni Association has secured some quick wins in the last few months. In addition to the many by preceding administrations- one of this is the imminent construction of an intelligent building so remarkable, that its location will be a Mecca of sorts for sightseeing. We have also concluded plans to build an iconic hostel within our axis on campus, as part of our grand design to creatively change the landscape of our Alma Mater. It is our commitment to continue to smoothen the journey of those coming behind in alignment with the vision of the leadership of the university, so, please join us as we embark on these projects.
" Again, beginning the best graduating students, Channels Media will give them N100,00 each. While the best overall graduating student in the department of Mass Communication gets N200,00." he promised
The event had the presence of notable Nigerians and principal staff of the institution such as His Royal Eminence. Alhaji Abubakar Umar Garbai El-Kanemi, CFR, Chancellor ; Dr Wale Babalakin, SAN and Pro-Chancellor and Chairman, Governing Council, UNILAG; and Mr John Momoh, President UNILAG Alumni Association among others.
https://www.vanguardngr.com/2019/03/over-300-students-benefits-from-red-cross-society-in-enugu/