By Victoria Ojeme
ABUJA—Nigeria's Institute for Peace and Conflict Resolution, IPCR and the Africa Institute of South Africa, AISA/Human Sciences Research Council, HSRC, have condemned xenophobic attacks on Nigerians and other Africans.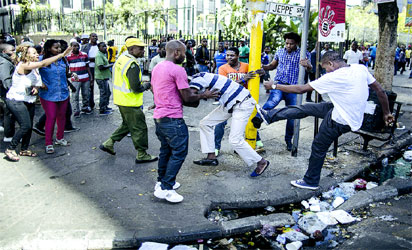 Acting Director General of IPCR, Dr. Bakut Bakut and an Executive Director of AISA, Professor Cheryl Hendricks, who led their teams to a joint meeting sequel the signing of a Memorandum of Understanding, MoU, at IPCR in Abuja,  called on African leaders to join forces against any forms of violence in the continent.
They also expressed the need to identify factors that enhance peaceful coexistence and unity in Africa so that they could be projected in the efforts of reclaiming African' sense of togetherness, mutual understanding and support.
They said the spirit of Pan-Africanism must be re-echoed to recover and uphold the virtues that oppose xenophobia and all forms of violence that are inimical to peace and sustainable development.
The key areas of collaboration as contained in the MoU that was signed include joint research projects and publications with focus on governance, peace and security; mutual assistance in establishment of new programmes and projects; exchange of information and publications.