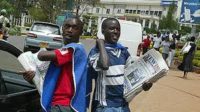 By Chioma Onuegbu
Newspaper vendors under the auspices of Akwa Ibom State Newspapers Association, yesterday, stormed the Correspondents' Chapel Secretariat of the Nigerian Union of Journalists, NUN, on Asutan Street, Uyo, to protest alleged harassment and intimidation of its members by government officials in the state.
The vendors who sell newspapers around the vicinity of Ibom Plaza, a central business hub in Uyo, complained that some of them had been beaten and unduly harassed on regular basis by the Ibom Plaza Management officials.
Chairman of the Association, Otobong Udofia, who spoke on behalf of the vendors, accused the management of harassing his members on a daily basis, adding that efforts stop them had fallen on deft ears.
"The management of Ibom Plaza has been coming to harass our members on daily basis, so we don't understand what is the stand of newspaper vendors in the state, if they don't want us to be in the state,  they should let us know.
"When they come, they will demand money from vendors that we are the reason people come to steal at the plaza. But we asked questions, how do pickpocket in the area concern vendors? They say the government said we should leave the plaza.
"We insisted and said that by right, vendors cannot pay a fee of N2000 monthly demanded by the management because our commission is only N40.00.
"A lot of people have been reading papers online, papers don't sell again and before we labour to sell 1000 copy a day, we will go round Uyo. We have been supporting the government, we wonder why the government is against us.
"We don't sell up to N2000, so it will be difficult for us to raise N2000 and pay, we eat from the amount and pay transport from there.
"When they come, they harass our members and our people will run away and many papers have been reported missing in the process."
However, the Chairman of the Ibom Plaza Plaza Management, Ima Umoh, denied the alleged harassments of vendors by his members.
He said the idea was to sanitise the place against hoodlums, adding, "We asked them not to display their papers wrongly because by doing that they attract hoodlums. We had an issue, their leaders came and we have settled. They should go back and sell their papers."
When contacted the state Commissioner of Information and Strategy, Mr Charles Udoh said, that government was not aware of the situation."