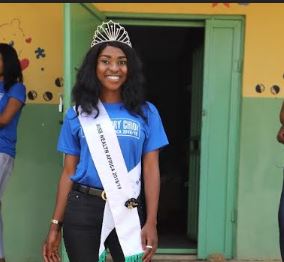 Miss Health (Africa), Queen Ivory Chidi
By Luminous Jannamike
ABUJA – Reigning Miss Health (Africa), Queen Ivory Chidi, has called on Nigerians to support children with autism by exposing them to the use of technology in solving basic problems.
She spoke during an awareness campaign to Our Lady of Guadalupe Autism Centre and Heath Foundation in Abuja yesterday.
The beauty queen said, "We want Nigerians to understand that children with autism are normal. They are just different and unique. They should not be locked up at home and deprived of necessities such as technology education.
"We've demonstrated that we can use technology to teach these children and show them love. We did not notice any awkwardness in the process.
"These children love technology and we can show them support by giving them basic gadgets for communication and education. They can be actively engaged with phones and laptops.
"We need not be presumptive in dismissing them as incapable of using such devices because they have autism. They only need to be taught based on how they want to learn."
In her remarks, Dr. Doris Izuwah, the Coordinator of the autism centre said the greatest challenge in educating the children is funding.
"We've done a lot of assessments for these children. They all have problems with communication and behavioural issues. But most of them are not able to afford the necessary technologies and facilities," she said.
The autism awareness campaign featured donation of various entertainment and learning devices by Miss Health Foundation to the centre for use by the children.