By Charles Kumolu
LAGOS—Rights activist, AChief Rita Lori-Ogbebor has called on Pan-Niger Delta Forum, PANDEF, to focus on environmental degradation in the Niger Delta region rather than politics, saying the problem has become more threatening to the people of the region.
She also urged the Niger Delta Development Commission, NDDC, to give attention to environmental issues, adding that other functions performed by the commission should not take pre-eminence over environmental concerns.
Briefing newsmen yesterday in Lagos, Lori-Ogbebor, who is also the Igba of Warri Kingdom, lamented that the impacts of oil exploration in the region are not being given the required attention by PANDEF.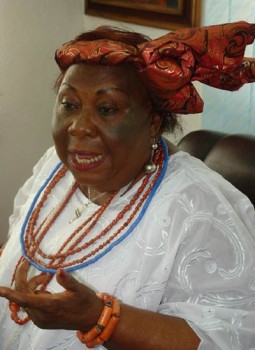 She said: "We the people who produce the oil are so poor because we concentrate on Lagos and Abuja alone. I was very angry when I visited Warri recently. I entered my house and sat on the chair to receive those who came to see me. When I looked at my legs, they was so black and I was so surprised. When I asked what could have been responsible, I was told that it was the effect of gas flaring. If my legs were so dark, I am afraid of what we inhale.  It is threatening to us in the region. Instead of PANDEF to be talking about it, they are busy talking about politics. I have been fighting for accountability and welfare of my people but I have realised that environmental issue is the worst. All the children of the oil company staff have been relocated, while the big oil companies have also relocated because of the effect on their staff.
"No child in that area would live without health challenges caused by the air we inhale. People are dying as a result of illness caused by gas flaring. I am aware that the Bayelsa State governor is waging a war against environmental degradation. He should be commended for doing so,  because the environment is so critical to our lives. It is saddening that PANDEF and NDDC do not put the issue in the front burner.''