•'Their bullets could not kill me but I don't know the whereabouts of my two wives and eight children'
•Who are the bandits? Sources unmask them!
Ben Agande, Kaduna & Bashir Bello, Katsina
The federal government of Nigeria this week announced the suspension of mining activities in Zamfara state to check the activities of bandits and criminals who have made the state a by word for impudent criminality.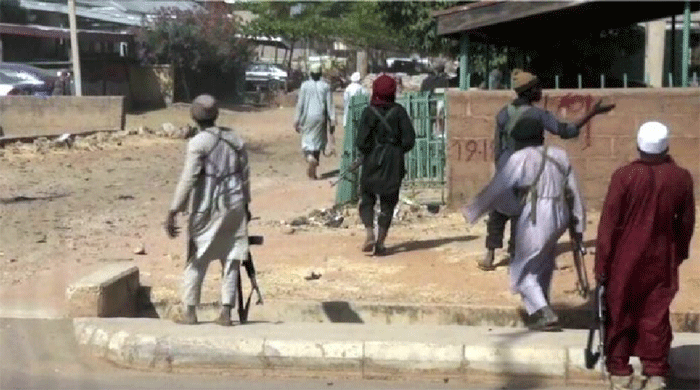 The action of the federal government, which was conveyed by the Acting Inspector General of Police, Mohammed Adamu, is seen by many critics as a knee jerk response   to the escalating insecurity and killings in the state and other   north western states of Katsina and part of Kaduna, for several months.
In announcing the decision, the Acting Inspector General said it was taken because "intelligence report has clearly established a strong and glaring nexus between the activities of armed bandits and illicit miners — with both mutually re-enforcing each other."
"The operation is aimed at reclaiming every public space under the control of the bandits, arrest and bring to book all perpetrators of violence in the area and their collaborators, achieve a total destruction of all criminal camps and hideouts, mop up all illicit weapons fueling the violence and attain a full restoration of law and order in the affected communities.
Mbamili Diocese gets two boreholes, five generators from Nkpor Community, Idemili North
"Our commitment at protecting the sanctity of life and property is irrevocable, and we will not scale-down the pressure on the armed bandits until they are totally flushed-out," he said.
While the long suffering people of Zamfara, who have suffered years of killings, rape and kidnappings seem to have welcomed government renewed,   albeit belated, attempt at stamping its authority and stopping the years of brigandage, many see the move as a kind of window dressing that will, like other efforts before it wither away soon.
It will be recalled that President Muhammadu Buhari launched the Operation Harbin Kunama in July, 2016 to combat banditry and kidnapping in the state. Although the ceremony attracted a high profile military presence, the security situation in the state continued to deteriorate and as some critics say, worsen with time.
Although the attention for the moment seems to be concentrated in Zamfara state, the situation is symptomatic of the worsening security situation in the north western states of Sokoto, Zamfara, Katsina and part of Kaduna which borders Zamfara state.
In Katsina for instance, the governor, Bello Masari told the Acting Inspector General of police who visited the state on Wednesday this week that the insecurity situation was so dire that some eight local governments out of the state's 34 local governments had been taken over by bandits.
He said "in other parts of the state, we also have kidnappers who not only take people on the road but in the comfort of their homes," he added, citing the "unfortunate incidence of the governor's in-law who was taken in the comfort of her home"
The eight local governments that have been taken over by bandits in the state are Jibia, Batsari, Safana, Dan-Musa, Faskari, Sabuwa, Dandume and Kankara.
In Kaduna state, apart from the security challenge in the southern part where the local communities and Fulani herdsmen are locked in an internecine conflict, indigenes of Birnin Gwari local government which borders Zamfara state have been enduring relentless attacks and killings from the armed bandits who even give advance notices before moving into villages to kill and maim and kill. In fact, in Birnin Gwari twelve soldiers and a number of policemen who were sent to protect the people from the armed bandits became victims themselves as they were brutally murdered.
Sokoto state is not spared from the bloodletting that seems to be gradually but steadily taking over the north western states mentioned above. In the most recent attacks, 16 persons were brutally murdered by bandits in Rabah local government area of the state in February. This is in addition to the 26 persons that were killed in three districts of Warwana, Tabkin Kwasa and Dutsi in same Rabah local government in January.
Who are the bandits?
Though the bandits in the four states of Katsina, Zamfara, Kaduna and Sokoto state share the commonality of sophisticated weaponry, brutality and brazen criminality, they seem to be motivated by different motives and reasons.
The criminality in Zamafara state started first as a clash between farmers and herders, and then it metamorphosed to cattle rustling before it assumed various motives including a turf battle between highly placed indigenes of the state that engage in legal and illegal mining and have resorted to using the bandits to prosecute their turf battles.
According to a security source, the inability of security agencies to effectively curtail the ongoing criminality in the state is not necessarily because of their incompetence but because of the complexities of the crisis. The source who spoke with Vanguard on the condition of anonymity because of the sensitivity of the case said 'the government knows what is fuelling the crisis and unless it is ready to demonstrate the needed political will, nothing will change.
"There are bandits who are involved in cattle rustling. There are those who are purely into kidnapping for ransom, there are those are purely hire hands in the services of the many legal and illegal miners who are engage in turf battles to secure their businesses. And then there is a new, dangerous dimension that we seem to have picked up recently: the involvement of displaced Boko Haram terrorists from the north east who are gradually regrouping in the state. These are various strands that all combine to make the Zamfara scenario more dangerous" he said.
Though no evidence was advanced to prove his allegation, another security source alleged the involvement of foreigners, especially Chinese miners in the illegality that is going on in the state. He alleged that 'two Chinese nationals were recently arrested for their alleged involvement in kidnappings in the Zamfara state but the case was hushed up and they were released without charge because of high level intervention'. Vanguard could not independently establish whether indeed some Chinese were arrested in connection with kidnapping in the state. But the stern order directed specifically at foreigners to leave the mining sites in Zamfara state points to the fact that they have been involved in unorthodox businesses.
Investigations further revealed that the state government may have unwittingly promoted some of the banditry in the state. It was gathered that in order to counter the activities of bandits who were threatening farmers in the state; the government sometime ago created and armed members of the Civilian Joint Task Force to challenge the bandits. With the passage of time, members of the Task force became uncontrollable and the bandits in order to dominate the environment acquired more sophisticated weapons to confront the JTF members. The result is the weaponisation of the state and the consequence is the unparallel insecurity.
Added to this is the unrelenting rustling of cattle in the state. According to a member of Miyetti Allah Cattle breeders in the state, Ardo Shehu Altine, some people were forced into banditry because of the loss of their source of livelihood.
Group tasks Imo governor-elect on payment of salaries, pensions
"While we are not justifying what is happening, some of our members were left with no choice but to seek other means of livelihood. The entire of their cattle heads were rustled by criminals and they no longer have a source of livelihood. Some committed suicide but others resort to criminality as a way of getting back to the society which they hold responsible for their ordeals. They feel that government could not protect them from criminals and they unfortunately resorted to self-help" he said.
In Katsina state, the insecurity challenge is majorly three fold: farmers/herders clashes, cattle rustling, armed banditry/kidnapping. While farmers/herders clashes have been a recurring decimal in the state over the years, kidnapping is a recent addition that has taken the state by surprise.
In a recent admission,  the Governor, Aminu Bello Masari  confirmed that cattle  rustling of which was hitherto the major bane of the state has metamorphosed  into kidnapping of people with nobody being exempt from the menace.
According to police sources, with greater attention to the issue of cattle rustling, perpetrators simply switch to kidnapping since they realized that abducting people and demanding for ransom could be more  lucrative than rustling cows because they need to rustle a large number of cattle to fetch them the amount they could get in kidnapping a notable person.
In Kaduna, the security challenge varies. While the Birnin Gwari axis is the hotbed of a potpourri of all criminals, the southern Kaduna security challenges comprise largely of inter-ethnic clashes between the Fulani herdsmen and local farmers while the Kaduna – Abuja highway is the hot bed of kidnappers. In the last one month, more than one hundred people have allegedly been kidnapped along the notorious road.
There is no doubt that the north has suddenly become the reference point in terms of insecurity in the country. In trying to put an end to this challenge, the federal government proferred solution has left room for more questions than answers.
For instance, who are the miners in Zamfara States and what are their roles in the security challenges? Why has the government failed to bring them or those that aide them to book if the government knows that they are culprits in the emerging security challenge?
Why has the government failed to secure the Abuja-Kaduna highway despite the deployment of a number of policemen on the highway?
Why is it so easy for security agencies  to track and trace kidnappers that have turned Katsina state to their safe haven? If the in-law of a governor could be easily snatched from the comfort of her home and only released after ransom has been paid, what reassurance can the governor give the people that he will protect them?
For now, the north west is on the radar of the security attention in the country. How serious the government is in tackling this challenge will determine whether it is serious or it is indeed playing to the gallery of public opinion.
Tales of victims of Zamfara bandit attacks
By Bashir Bello
KATSINA – Life is hell for residents of Zamfara State with the series of attacks launched by armed bandits and kidnappers on people of the state almost on daily basis.
Navy arrests 8 suspects bunkerers, seizes 501 drums of illegal AGO in A' Ibom
Information reliably gathered shows that no local government area of the state is has not been attacked or without stories to tell about the encounter with bandits. It is severe in local government areas such as Shinkafi, Zurmin, Birnin Magaji, Bokyum and Gusau. They are worst hit.
Residents of villages in Shinkafi local government area, one of the worst hit took turns to narrate their sad tales and ordeals in the hands of the bandits to our correspondent.
They killed my husband, our three children in my presence
I ran 40km to save my life – survivor
Suwaiba Kabiru is a resident of Kursasa village in Shinkafi local government area of Zamfara State who said her husband and three children were killed in her presence but she narrowly escaped death after running 40km on foot to Shinkafi.
Suwaiba whose legs were swollen said she escaped through the bush to Shinkafi where she is currently undergoing medical treatment at a private hospital.
According to her, "it was on a Sunday on that fateful day, when the gunmen stormed our village about 4pm and were raiding till 7pm. They opened fire. Shooting sporadically, they killed my husband and three children in my presence. I narrowly escaped. I ran 40km on foot to Shinkafi.
Their bullets could not kill me but I don't know the whereabouts of my two wives and eight children
Another resident of a village near Baji village, Muntaka Hassan said the bandits used machete to cut him when several "gunshots fired at me couldn't penetrate."
Muntaka said he took bullet charm which made it impossible for the bandits to kill him by shooting him with gun.
"We were at home when they came shooting sporadically. I was shot at several times. I visited a village where I was given charm for bullet, so the bullets couldn't penetrate. So they cut me with machete on my shoulder and left me there thinking I was dead," he said.
He then told his bizarre story: "I don't know the whereabouts of my family members – two wives and eight children.
"I have two wives but I don't know their whereabouts. But I was told, one of them is in Inwala. She ran to her grandmother. I was also told on her way she was shot, I don't know whether she is dead or alive. The other wife fled and also my eight children. I don't know their whereabouts because the people came and created commotion as they shot at everybody they saw and left everybody running for his or her lives.
"They came with a gun that releases fire when they shoot it. It is unbelievable. I don't know the name of the gun but ones they shoot it, fire comes out and everywhere is gutted by the fire.
Benue govt commends AHF intervention that pushed down HIV/AIDS prevalence from 12 to 5.3 percent in state
"This is not the first time we experienced this. The first time they came, they shot three boys and kidnapped one. So this is their second coming.
"We reported the incident to our traditional leaders because no presence of security personnel in our areas. When we reported to our leaders, they told us they had informed the security but the security men often say that they had not been granted permission to attack.
"They shot people, some are dead and our cattle were killed," Haruna said.
I was shot on the leg, shoulder while attempting to flee
Similarly, Aminu Usman, a resident of Baji village in Shinkafi said he was shot on the leg and shoulder while attempting to escape with his younger brother.
Usman said the bandits set ablaze houses and shops in their community, leaving only three standing.
"The Armed bandits invaded our village on Sunday. They came shooting at about 7pm after Magrib prayer. Unknowing to us, they were in the village since 4pm.
"They set ablaze shops and houses. All houses in our village were set ablaze. Only three houses are standing in our village. Nobody in our village.
"They shot me in my leg and my hand but the bullets have been removed.
"If you try to run away, they will come after you with their motorcycles and shoot you. Once they shoot, they go. They do not check whether you are dead or alive. They just shoot as if they take pride in doing so.
Court remands 3 in prison for allegedly stealing 31 cows
"I was shot on my leg and shoulder while trying to flee with my brother. I was attempting to cross a river because there is a river in our village that you will have to cross before you escape into the bush but unknowing to me, the bandits had taken position there (by the river) in such a way that anyone who attempted to flee through that route was forced to go back into the village already set ablaze.
One Kabiru Lawali, from Gidan Mussa village in Shinkafi is lucky to be alive but the bandits broke his leg.
Lawali, was the first attacked by the bandits who stormed the area in their numbers and on motorcycle.
He was said to have gone to a garden close to his house. He was the first the bandits attacked. In attempt to rush back to the village to notify the villagers of the coming of the bandits on motorcycles, he fell down from his motorcycle and the bandits met him, broke his leg. They went into the town to carry out their atrocities.
Lawali's state of health was said to be fast deteriorating and would now be amputated.
The owner of a private hospital, Dr. Suleiman Shuaibu Shinkafi who is treating Lawali and 25 others said he was already arranging to convey him to Sokoto or Gusau for the amputation which he said was the last option.
"I have 26 victims here who sustained several degrees of injuries and they can't cater for themselves.
"Some are in general hospital, Shinkafi. The situation in the hospital is worst as there are no drugs. I have to go on my own to get some drugs for the hospital.
"Some are in my private hospital while others are in my house.
Dr. Shinkafi who doubles as the Sarkin Shanu Shinkafi, Zamfara State described the situation as alarming, a scenario where more than 200 people were killed in one week.
"In recent time, about four days ago the record of killing, rape and kidnapping across the state has become alarming that no family can sleep in Zamfara State with their both eyes firmly closed.
"One will be forced to ask whether there is existence of government in Zamfara State where the rural population is entirely at the mercy of bandits and kidnappers without any hope for an end at any moment.
"The people of Zamfara State have abandoned their means of livelihood such as farming and animal husbandry as they dare not go out to do any of them for fear of been kidnapped or killed. The number of people that have been displaced in the on-going carnage and genocide cannot be ascertained as death and ugly killings are recorded on daily basis.
"Today, majority of citizens of Zamfara State including my Local Government Shinkafi have become a sorry state, where lives of people does not worth anything and cannot be protected by those in authority, because they don't feel the pain.
"Most worrisome, ladies and gentlemen is the involvement of some security officials who aided the criminals to commit the crime and cover them up.
Recently 19 Children of an Arabic School in Barki Marna were kidnapped by hoodlums who are now asking for Thirty-Million Naira ransom to release the poor children. Issues of rape have been a decimal occurrence that the hoodlums go from house to house to kidnap married and unmarried women. The situation has become so alarming that almost all the villages have been deserted for fear of been kidnapped or killed by these merchants of death.
However, the Executive Secretary of the Zamfara State Emergency Management Agency, Engineer Sanusi Kwatarkwashi put the number of lives lost from the attacks at 3,000 from 2018 till date while 31,420 persons are internally displaced as recorded by the agency.
"We have 31, 420 IDPs, we got access to. We have 3,962 males, 8,890 females and 18,550 children as at the end of last month, March.
"They are from various communities across the local government – Gusau, Shinkafi, Zurmin, Birnin Magaji and Bokyum local government areas.
"We have record of 3,000 live lost from 2018 till date, hundreds of people are kidnapped," Engr. Kwatarkwashi stated.