By Chinedu Adonu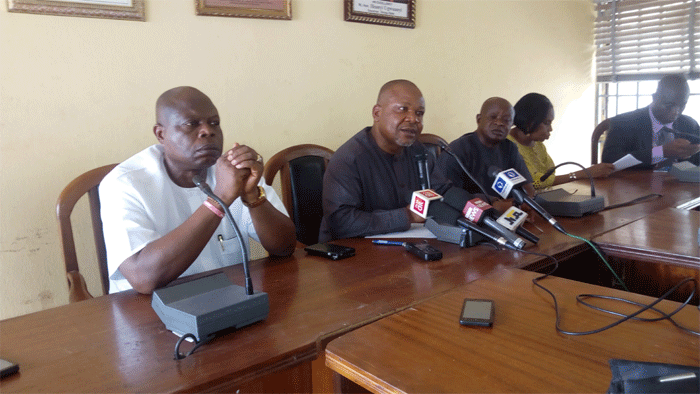 ENUGU – RESIDENT Electoral Commissioner of INEC in Enugu, Dr Emeka Ononammadu, has warned that the commission will never be intimidated into paying impostors who never worked for the commission during the 2019 general elections.
Dr Ononammadu who gave this warning during a press briefing at the office of the commission in Enugu in reaction to a protest on Tuesday by some acclaimed ad-hoc staff who claimed that their entitlements were yet to be paid weeks after the election.
The protesters were alleged to have locked up the three gates leading to the commission's office, holding staff and visitors hostage, a situation that led to the protesters being teargassed by the Police.
LASU suspends remittance of ASUU members' check-off dues
According to Dr Ononammadu, "we have invited the media to clear the air on some negative reportage of INEC which occupied front page in major newspapers and headlines in some television stations despite the efforts made by INEC to clarify issues.
"We are paying our Ad-hoc staff after thorough verification. Nonpayment of genuine ad hoc staff is history in INEC because payment of this nature is done through Central Bank Electronic platform, a measure approved by INEC to forestall nonpayment of those who worked.
"When we inquired on the details of few of the protesters, we discovered that majority of them are those INEC did not originally posted to where they claimed that they have worked and there is no documentation either in our posting list to support their claims. Most of them could not have been posted when they are not either youth corpers, Students of federal tertiary institutions or staff of federal ministries, agencies and departments.
On the identity of the protesters, Dr Ononammadu, said that, "we strongly suspect that the protesters were hired by those who want to rubbish our excellent record and put us in more troubles by putting up pressure for us to pay the wrong persons which will prevent us from paying the right ad-hoc staff.
"As at the time of their gathering, INEC has almost completed the payment of Ad-hoc staff. What was left was the handling of those whose bank accounts were not correct or those whose name did not match the bank account submitted to INEC. Since four weeks, we have made telephone call to over four thousand ad-hoc staff to get their correct bank accounts.
It is therefore unacceptable that those who did not work for us or those who could not write their bank details correctly can come to INEC, use padlock and lock up our gates, but all that was seen was that peaceful protesters were teargassed.
Ex-staff of govt-owned sugar company protest unpaid benefits
"After our painstaking verification, we found many names in the initial proposed list that neither worked nor were posted by INEC. We will commence investigation to unravel how their names got into our system and who was responsible," he said.
Subscribe for latest Videos