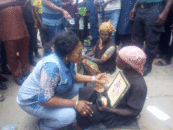 By Nwafor Sunday
The leadership of Governor Willie Obiano has extended its philanthropic gesture to beggars and mentally deranged persons in Anambra state.
Recall that the state had last year picked-up quite a large number of psychological imbalanced persons who sleep on streets and gutters in the state, but along the way stopped for a reason best known to the state.
'Not mentally ready' Higuain dropped by AC Milan as Chelsea move looms
Reports have it that the state has commenced, as scores of beggars and mentally ill people have been picked up at Onitsha, through a joint task force led by the Ministry of Social Welfare, Children and Women Affairs
The apprehended beggars, operating at both Onitsha Main Market and Upper Iweka, were mostly women, presumed to be using 'hired' children to carry out their businesses.
The raid is part of the initiatives of the Anambra Government to get rid of beggars and mentally sick persons on the streets.
They were taken to the Nteje Rehabilitation Center for treatment.