By Peter Duru
Makurdi – Again, suspected armed herdsmen late Tuesday night invaded Mondo village in Ukemberagya in Logo local government area of Benue state killing five persons and sacking the entire village.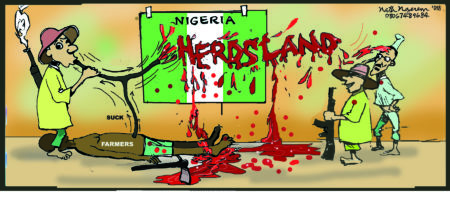 Vanguard gathered that the invaders who stormed the village from neighbouring Nasarawa state also left scores injured.
A local Chief in the area, Joseph Anawa who confirmed the development hinted that invaders stormed the village at about 11pm when the people had gone to bed.
"They came shooting sporadically and burning down the houses and huts of the people and anyone they caught up with was killed but the lucky ones escaped with injuries.
"Those we can confirm dead as a result of the attack include, Celina Tavershima, Sonter Tavershima, Torkaa Gbim, Ayilaga Tavershima and Terkaa Tavershima.
"As we speak the entire place has been deserted as the people have fled to seek refuge elsewhere while some are heading to Anyii, headquarters of Logo Local Government Area with their families and whatever property they could lay their hands on."
Meanwhile another source in the area, Shima Aounduver, told Vanguard that apart from the five that had been confirmed dead, several persons were still missing and unaccounted for while close to 25 persons sustained various degrees of injuries in the attack.
https://www.vanguardngr.com/2019/04/apc-women-demand-key-appointments-in-buharis-cabinet/
"The figure may increase in the coming days because we cannot at the moment account for several persons but we hope and pray that they are still alive," Aounduver said.
According to him, after the attack that lasted about one hour, "the invaders crossed the River Benue and retreated to Nasarawa state."
When contacted, the Council Chairman of Logo LGA Richard Nyajo who confirmed the development said had already reported the matter to the Commander of the joint military operation in the state, code named Operation Whirl Stroke, OPWS, Maj. Gen. Adeyemi Yekini.
Contacted, Maj. Gen. Yekini who confirmed the attack said his troops had already moved to the scene of the attack to assess the development.
https://www.vanguardngr.com/2019/04/5-ipob-members-arrested-for-attacking-police-station-in-anambra/
Vanguard recalls that the attack came less than 24 hour after similar attack was recorded in Ukum LGA of the state where five persons including an aged woman were reportedly killed in a communal crisis between the Jukums of Taraba state and the Tivs in the area after a minor quarrel between two friends.