By Chidi Nkwopara
OWERRI—Imo people have been reminded that the gubernatorial election may have become history but  the battle to fully recover and rebuild the state is not yet over.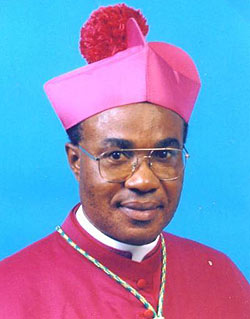 The Catholic Archbishop of Owerri Ecclesiastical Province, His Grace, Dr. Anthony J. V. Obinna, who stated this during a function for members of the Catholic Women Organisation, CWO, at Maria Assumpta Cathedral, Owerri, also said that the citizenry cannot afford the luxury of having another Herod in Imo.
"As we thank God for this wind of change, may God grant the Governor-elect humility because we don't want another tyrant. Imo people must continue to pray for the state because the battle to fully recover and rebuild Imo is not yet over", Archbishop Obinna said.
While saying that "winning or losing election in this part of the world is not everything", the Archbishop however opined that "the exercise however, brings joy on one hand and sadness on the other".
Obinna quickly added that the joy which electoral victory brings to the successful, "is earthly".
In obvious reference to what the people passed through in the past eight years, the cleric reminded the people that "whether it is Herod, the tyrant and ruthless ruler of the Jews,who stopped at nothing to keep his throne, or Caiaphas the Jewish priest, who organised a plot to kill Jesus or Pontius Pilate, who presided at the trial of Jesus and gave the order for his crucifixion, we are all guilty."