Deontay Wilder has done a 180-degree spin and now stated that he wants to fight Anthony Joshua before the Tyson Fury rematch.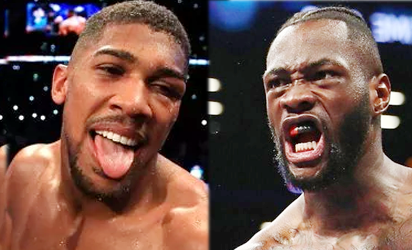 The American blasted Fury for opting to take an interim bout rather than immediately settle their score on May 18 and, as a result, would now prefer to pursue AJ once again.
First, the WBC heavyweight champion must fulfil his mandatory obligation against Dominic Breazeale – now likely for May 18 instead.
READ ALSO: Fury signs ESPN fight deal worth £80m
When asked whether he wants Joshua or Fury after Breazeale, Wilder told Blue Blood Sports TV: "I want Joshua, of course I want to unify the belts.
"They know what we want, I don't see why they keep coming with these offers and stuff like that.
"They know what we want, it's easy, it's easy to make that fight. They know what they want, but until they can swallow their pride like I did before, we've just gotta do what we gotta do.
"I did it, you didn't wanna go through with it, but I did it. Now it's time for you to swallow your f***ing pride and give the world one of the best heavyweight fights.
"I'mma knock his ass out that's for sure. I promise you."