By Harris Emmanuel & Chioma Onuegbu
Uyo—ELDERS, and stakeholders of the Peoples Democratic Party, PDP, in Akwa Ibom State have identified reliance on federal might as one of the major reasons the All Progressives Congress, APC failed in the 2019 general election in the state.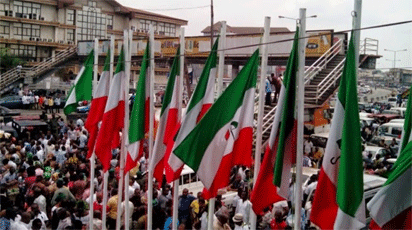 Spokesperson of the elders and a former military administrator of the state, Air Commodore Idongesit Nkanga made the assertion during a press conference yesterday in Uyo.
Nkanga said the fact that the PDP in the state won the presidential election, senatorial seats, 10  House of Representatives seats, 25 House of Assembly seats and the governorship poll confirmed the dominance of the party in Akwa Ibom state.
IPAC condemns alleged attack on A'Ibom REC
Nkanga said: "We have read the laughable assertion by the APC that its governorship candidate won in 26 local governments of the state. May we ask if such victories were conjured in their dreams because the reality is that Akwa Ibom State is PDP and PDP is Akwa Ibom State.
"While we campaigned, selling Udom's superlative achievements, and persuading the people not to return to the dreadful days of insecurity, the other side relied more on the famed "federal might" and instruments of violence.''
Nkanga, who is the Director General of Udom Emmanuel's Divine Mandate Campaign Organisation, thanked Akwa Ibom people for re-electing Governor Udom Emmanuel.