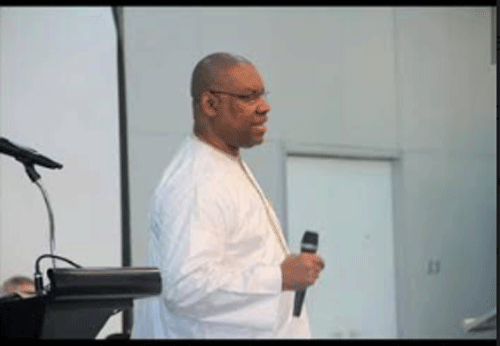 …As he organises leadership forum for youths.
By Chris Onuoha
A platform known as "The Difference Forum", an initiative of young and enterprising Dominic Eluagu has put all modalities together to host the 2019 edition of a symposium for young and emerging leaders scheduled to hold on Thursday, April 4, at the Merit House, Abuja.
The programme, meant to draw all Nigerian youths and alike, themed: "Impossible is Nothing", will bring together leaders and influential personalities in politics, business, advocacy, media, and others, to engage and discuss issues of entrepreneurs, leadership, public policies, and civic engagement.
Buhari condemns internecine violence in Kaduna
Speaking ahead of the symposium, the founder and Chief Operative Officer, Dominic Eluagu disclosed that the 'Difference Forum' is a quarterly program that aspires to bring together Nigeria's best leaders, entrepreneurs, professionals and reformers to share ideas that would spark deep discussions and birth new ideas that will change our society.
"We have one goal in mind- 'the audience.' Within this enabling environment, our audience inevitably reshapes their boundaries of ability and reality. This will spark audacious ideas for our society, ideas that challenge our present reality and upend the status quo," says Eluagu.
He further stated that 'The Difference Forum' recognizes the hopes, aspirations and dreams of the younger generation as well as their zeal to excel and make a difference.
Speaking on its drive to change negative narratives about Nigeria, he said;  "While highlighting the role of the Nigerian youth in demanding for better governance and improvement in the system of leadership, the forum will have as its special guest and keynote speaker in the person of Ambassador Imam Douglas Owen-Ali, an International Ambassador of Peace/Investment and Commercial Envoy, Former Adviser to Former United States of America President, Barack Obama and the founder of Global Oneness Inc."
Ethiopian Airlines Crash: Hundreds pay tributes to late Prof. Adesanmi in Lagos
"In strengthening leadership and citizen participation, it is important that we provide platforms to aid true transformation and establish democratic values while developing active and empowered citizens. With the theme 'Impossible is Nothing', we intend to highlight the crucial role of citizens in imperatives of better leadership," Eluagu said.
The Difference Forum has a mandate to build empowered citizens across Africa through inclusive enterprise and active citizenship.