Abuja – Many eligible voters in the Gishiri area in the Abuja Municipal Area Council (AMAC) of the FCT say they have a good reason for not participating in the March 9 elections.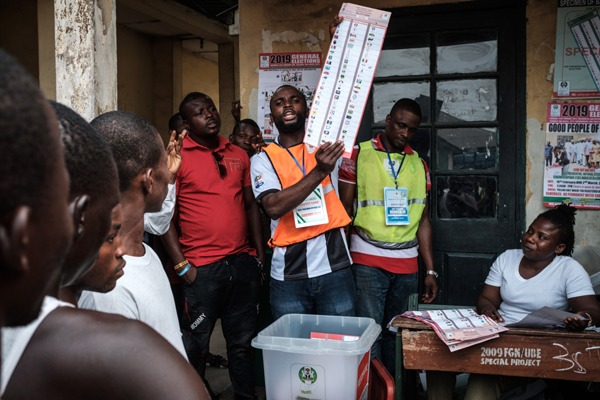 Saturday's elections in the FCT are for council chairmanship and membership positions, but voter turnout has been very low in the same manner it has been across the country.
The residents of Gishiri who spoke with the News Agency of Nigeria (NAN) said they did not need to vote because they did not know the candidates contesting for AMAC offices.
This has led to a low turnout of voters generally, and especially at the 24B and 24D polling units at the Gishiri LEA primary school.
As a result of the low turnout and apparent disinterest, all the shops at the Gishiri area were open for business.
Malam Isa Abubakar, one of the residents, said they decided to go about their normal businesses because they needed to protect their own interests too.
According to him, people like him believe those contesting are also working for their businesses.
https://www.vanguardngr.com/2019/03/election-peacefull-in-delta-as-gov-okowa-votes/
"I don't even know them (the contestants). So, how do I know who to vote for?'' he demanded.
When asked if he voted in the presidential elections, Abubakar replied in the affirmative.
"I knew that (Muhammadu) Buhari and Atiku (Abubakar) were contesting. They went everywhere to campaign. So, I voted for the person I knew (Buhari).''
Mr Mathew Enejo, a shop owner in the area, has the same response as Malam Abubakar.
"I don't even know the people contesting and what positions there are contesting for.
"Besides, the positions they are contesting for are their own shops. So, why should I close mine (my shop) for theirs,'' he said.
Malam Haruna Abubakar, a seller of fruits in a wheelbarrow, said he only came to the polling station to hawk his fruits for voters to buy.
"I came to sell my fruits. But just a few people are here to sell to. During the last elections, I sold almost all my fruits because so many people who came to vote were hungry.
"Besides, the people contesting didn't think we are important. So, they didn't campaign here".
https://www.vanguardngr.com/2019/03/atiku-ll-soon-reclaim-his-mandate-pdp-warns-buhari/
But, like the saying goes, different strokes for different folks.
One of the ad hoc staff of the Independent National Electoral Commission (INEC), who asked to remain anonymous, told NAN she was happy with the situation.
She said she was actually happy that the turnout of voters was small.
"The Presidential and National Assembly elections were very hot and difficult for us, because so many of those who couldn't find their names on the voters register threatened to disrupt the process.
"But today's election is quiet and peaceful and we are happy that we are safe,'' she said.(NAN)