By Anthony Ogbonna
Videos show rescue operation ongoing at a collapsed three-storey building at Ita Faji, at Lagos Island on Wednesday. Over 100 pupils have been reported trapped in the collapsed building.
Read also: Breaking: At least 22 trapped pupils, 25 bodies rescued from Faji building collapse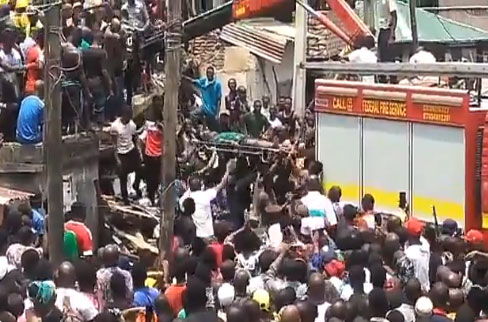 SAD NEWS 🥺🥺
A 3 storey building in Lagos island, Ita Junction which has a private school in it has collapsed leaving some of the students dead, some rescued and most of them trapped.

My condolences for the grieved. pic.twitter.com/E7TNAAzRg8

— OGA Nelson (@theoga_nelson) 13 March 2019
Cries rented the atmosphere at the moment some trapped pupils and other persons were rescued from the rubble.
A boy is pulled out of the rubble of the collapsed school at Itafaji in Lagos Island. Many pupils still trapped under building.🙏🙏🙏#ItaFajiSchool #Lagos pic.twitter.com/dCLdjBwfy2

— Adetutu Balogun (@Tutsy22) 13 March 2019
{VIEWER DISCRETION} Scenes from the Building Collapse in Ita-Faji Lagos Island … Men of @rrslagos767 @lasemasocial, SARS, Fire Service, and other agencies are on ground … So sad. pic.twitter.com/LsoIMY1r7E

— Jubril A. Gawat (@Mr_JAGs) 13 March 2019
Just In: A three storey building collapsed at Ita Faji area of Lagos island. The building housed a children's school of a about 400 pupils,shops and flats of residence.
.
Casualties figures not confirmed

God take control pic.twitter.com/wVhXhreU7K

— Afolabi Idris (@hadhratidris) 13 March 2019
A 3 storey children school just collapse in Itafaaji, Lagos Island.

Over 100 children are trapped in the building.
pic.twitter.com/htlqJiVNYf

— Omo Iya Eleja (@motivatedgeorge) 13 March 2019