By Sam Eyoboka
A US-based Human rights group, US Nigeria Law Group, USLNG has decided to mark the one year anni-versary of the release of 104 Dapchi schoolgirls without the lone Christian girl, Leah Sharibu who had remained in captivity of Boko Haram since February 19, 2018, with a heroic award in honour of the 15-year old heroine of the Christian faith.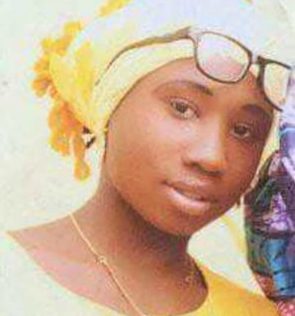 Sunday Vanguard recalls that at about 5.30 p.m. some 110 schoolgirls aged between 11 and 19 years were kidnapped by the Boko Haram Terr-orist group from their Government Girls' Science and Technical College, GGSTC, Dapchi in Yunusari Local Government Area of Yobe State. Yobe State governor, Ibrahim Gaidam's immediate response was to blame the Nigerian soldiers for removing the military checkpoint from the town.
The Federal Government swung into action deploying security agents in search of the young girls and on March 21, 2018 the government announced that Boko Haram terr-orists haf returned 106 of the kid-napped children, including 104 girls who went to school, one girl who did not and a boy.
The group dropped the girls off in nine vehicles, warning their jubilant parents not to put them in school again. However, Leah Sharibu, 14, wasn't released because the terrorist group would only set her free if she converted to Islam.
Nigeria confirms eight soldiers killed in Boko Haram attack
One year after the Government secured the release of 104 Dapchi schoolgirls but failed to retrieve heroine Christian teenager Leah Sharibu held hostage for her refusal to convert to Islam and in recognition of the International Women's Day 2019, the US Nigeria Law Group is honoring several key women of courage and valour.
The managing partner of US Nigeria Law Group, a non-governmental pre-ssure group, Mr. Emmanuel Ogede has announced the award of L.E.A.H. Indomitable Courage award goes to individuals who have shown Legend-ary & Exemplary Acts of Heroism at great personal risk or price against overwhelming odds.
According to him, the award which is for four different categories include 7-year old Success Adegor, Valiant Rivers State Women who protested against military invasion of a collation centre during the 2019 elections, is to acknowledge simple acts of def-iance, speaking truth to power, self-denial or going against popular opin-ion.
Mr. Ogede said the 2019 L.E.A.H awardees for women are: Girl Child of the year: USNLG recognizes fear-less and outspoken 7-year old Sapele Schoolgirl Success Adegor. Armed only with her voice and gritty deter-mination not to be denied education even if caned, her voice ignited a national movement that within days not only earned her scholarships but transformed her school and inspired a national discussion on governance service delivery.
*Democratic women of the year: USNLG recognizes the valiant women in Rivers State who during an attem-pted military invasion of the election collation, barricaded the center with their bodies and defied the military to protect their votes.
*Anti-corruption woman of the year: USNLG recognizes the brave, intrepid journalist and child rights activist, Betty Abah who has for several years consecutively exposed corruption in international donor groups including most recently in the UN's system at great personal risk to herself, her NGO and the vulnerable children she advocates for.
*Lifetime achievement female professional of the year: USNLG honors distinguished and accompli-shed professional, Dr. (Mrs) Maryam Dija Ogebe (nee Madaki) who defied cultural and religious prejudices and economic constraints to become the first female medical doctor from conservative northern Nigeria and recently clocked 75 years old.
Rivers: PDP, APC in crossfire over timelines
"In this connection, USNLG has iden-tified and paid for the exam fees of final year IDP students from the hor-rendous Barkin Ladi massacres of June 2018 as well as other IDPs and indigent students in Plateau State. An orphan who lost five family members was also relocated to safety and her school fees paid.
"While about 50 students were recom-mended, verification and examin-ations were conducted by local volunteers to ensure that viable candidates were supported. One candidate was immediately dis-qualified for inability to write his name, for example, while another was exempted from writing on health grounds due to gunshots sustained on her arm from herdsmen attacks. In all, 40 per cent of those evaluated were funded for the exams.
"We are grateful to a Nigerian Ameri-can pastor and a professor as well as Dr. (Mrs) Ogebe for sponsoring these kids," Ogede said.