-Urges Deltans, Urhobo Nation To Vote For Ogboru
By Daniel Dafe
The Urhobo Progress Union (UPU), Youth Wing, Worldwide, has condemned the purported endorsement of Governor Ifeanyi Okowa for a second term, saying that this does not represent the true position of the mind of Urhobo youths.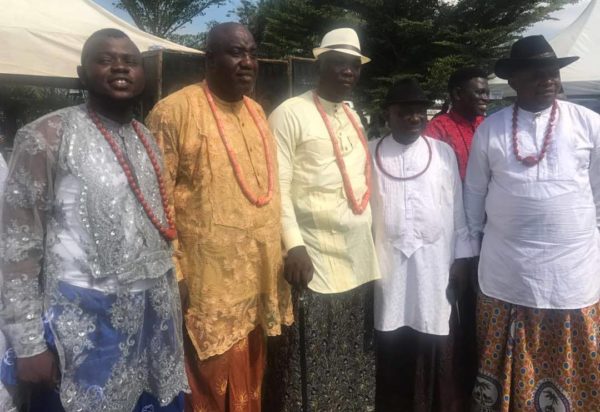 In a communiqué signed by the President, Comrade Louis Anidi and the National Secretary, Comrade Efemena Umukoro, the group said: "Our attention has been drawn to the purported move by Vincent Omoko to endorse Senator Dr. Ifeanyi Okowa for a second term as governor under the guise of UPU youth wing president. This is a betrayal to Urhobo Nation and could only be motivated by selfish interests geared towards hoodwinking the beneficiary of this move to gain financial benefits.
"Ordinarily as a constituted body representing the entire Urhobo youths worldwide, we would not have responded to such laughable endorsement because we are more focused on giving the Urhobo youths a legitimate political guidance on the best way to place the Urhobos in the right pride of place.
"Government is transit. Governor Emmanuel Uduaghan handed over to Ifeanyi Okowa and come May 29, 2019, Governor Okowa might also hand over to another governor.
"Our question is who handed over to Vincent Omoko? It is important to note that High Comrade Ovie Igho handed over to Comrade Louis Anidi. So, who handed over to the said purported PDP agent called Omoko parading himself as the UPU youth wing president?
"In 2015, the leadership of Ovie Igho cried out to Urhobo nation about the plans of the PDP to hijack the youth wing structure since they were unable to bribe the then leadership to endorse Governor Okowa for the election. The UPU youth wing then stated that one Omoko who is a PDP loyalist has been earmarked for the position of President, UPU, youth wing to cause a factional leadership in the UPU youth wing body to ensure that in 2019 Omoko will play the political betraying card of endorsing Governor Ifeanyi Okowa against the bribe that Comrade Igho refused to fall for in 2015.
"The UPU youth wing worldwide is not surprised that this move has been activated hence the Urhobo people can now see what the UPU youth wing has been crying against ever since."
The communiqué added: "The statement of Omoko has caused a lot of tension and unrest in most communities in Urhobo land. As a people who are determined to advocate, promote and protect the interest of Urhobo people worldwide, we therefore call on all Urhobo youths to remain calm and law-abiding as we focus on working for a Deltan whose father is from Delta Central, his mother from Delta North and his wife from Delta South, the Ijaw nation which makes him a complete Deltan.
"We have decided to endorse Chief Great Ovedje Ogboru because of his globally recognised success in business and a man who is focused on achieving a goal and does not quit any battle till the end. Such a man with a great globally recognized success in business will apply all these qualities to move the state forward."
On the issue of zoning, the youth group said: "Zoning has caused a lot of disunity in Delta State. If truly we are one Delta, why the zoning? Can an Ijaw man with population not develop Delta North; or someone from Delta North as governor develop Delta South?
"Zoning is not recognised in Delta State because it is not backed by any written document," the group added.
Continuing, UPU youth wing called on Omoko and his cohorts to desist from dividing Urhobo nation because of peanuts from the state government, adding that they should be concerned about what becomes of their names in the history of Urhobo Nation.
The group urged all Deltans and the Urhobo nation to vote for Chief Great Ovedje Ogboru who has come with new hope to take Delta State to the next level.