ABUJA: With 2019 proving to be the most stretched out election season in contemporary Nigeria democratic experience, Nigerians will this week again put focus on the Independent National Electoral Commission, INEC as it works to resolve lingering issues from the record number of inconclusive governorship elections.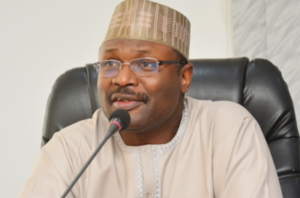 Arewa leader celebrates Okowa, Ighrakpata electoral victories
The focus would be on Bauchi, Rivers, Sokoto, Kano, Adamawa, Benue and Plateau States where the commission was indecisive on projecting winners during the governorship elections that took place in 29 states on March 9.
Monday, 18th March:
Series of meetings with stakeholders as INEC checks its level of preparedness for Saturday's supplementary elections.
Tuesday, 19th March: D-Day on Bauchi
Last week, the governorship election processes in Bauchi State could not be completed, a development that made the returning officer to announce that there would be a supplementary election to resolve the stalemate.
At the weekend, INEC however approved the resumption and conclusion of the collation of results of Tafawa Balewa Local Government Area in relation to the Governorship election as the duplicate and original Registration Area results are available.
It also approved the resumption, conclusion and announcement of the result of the Tafawa Balewa State Constituency.
At the end of Tuesday, INEC should be able to pronounce the winner of the governorship election in the state. Before collation was halted, the Peoples Democratic Party, PDP was having a marginal lead before the inclusion of Tafawa Balewa Local Government Area which is the constituency of Speaker Yakubu Dogara of the House of Representatives.
Wednesday 20th March:
Decision on Rivers
On the 10th of March 2019, the Commission suspended all electoral processes in Rivers State having determined that there was widespread disruption of collation of results of the elections conducted on the 9th day of March 2019. Subsequently, the Commission set up a Fact-Finding Committee to assess the situation and report back within 48 hours.
With INEC now resolving to continue with the process, the election management body is expected to on Wednesday issue detailed timelines and activities for the completion of the election.
Thursday and Friday: Movement of sensitive and non-sensitive materials to affected constituencies for the supplementary elections in the five states.
Saturday, 23rd March
Supplementary Elections would hold in about five states including Adamawa, Benue, Kano, Plateau and Sokoto.