Lagos – Stakeholders participating in the Juvenile Justice Administration Summit in Lagos on Thursday called on prison authorities to stop detention of juveniles with adults, saying it caused more damages than correction.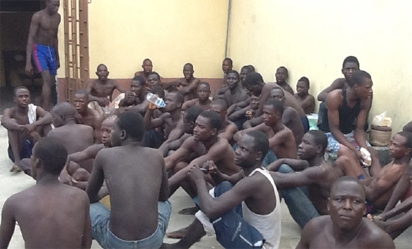 They made the call at the stakeholders summit with the theme: "Reforming Juvenile Justice Administration in Nigeria, ending the detention of juveniles with Adults."
South-West Coordinator, National Human Rights Commission (NHRC), Mr Lucas Koyejo, said that child offenders should not be imprisoned, especially where the offence could be dealt with by fine.
Koyejo said the phenomenon of finding children detained with adults as experienced in many prisons, especially in Lagos State, needed to be urgently and effectively addressed.
"The importance of this summit is to ensure that juvenile justice system should recognise that youths under the age of 18 are fundamentally different from adults.
"Juveniles are meant to be sent to institutions which serve as a form of rehabilitation for the child and not to serve as child offenders.
"Unquestionably, jailing children with adults needlessly puts them at greater risk," Konyejo said.
The Controller of Prisons Service in Lagos, Mr Tunde Ladipo, however, disagreed with the NHRC coordinator on the allegation that juveniles were detained with adults in Lagos prisons.
"All the prison formations under me have no juveniles detained with adults,'' Ladipo said.
The Chief Judge of Lagos State, Justice Opeyemi Oke, represented by Justice M. O. Obadina, expressed sadness over children's involvement in crimes.
Oke underscored the need to have more correctional centres in Lagos State that would address the increasing number of juveniles who come in contact with the law.
https://www.vanguardngr.com/2019/01/3-die-11-injured-in-lagos-ibadan-expressway-bus-somersault/
Mr Sylvester Uhaa, Country/Executive Director, Citizens United for the Rehabilitation of Errants (Cure-Nigeria), said the summit was to have a reduction in children being detained with adults in the same prisons.
Uhaa said that it also de-emphasised imprisonment and incarceration of children.
He called on the government to invest in the welfare of children as this would check them from crimes.
According to him, if juveniles come in contact with the law, they should be treated like children and not adults.
"It is wrong to keep children in same prisons with the adults," he said.
A Human Rights Lawyer, Mr Malachy Ugwummadu, called on the government to address whatever that would bring the children in contact with the law.
Ugwummadu also advised parents to live up to their responsibilities in the course of training their children.
The News Agency of Nigeria (NAN) reports that students from Olusola Golden Value Academy, Ijede, Ikorodu, Lagos State, presented drama on juveniles in contact with the law.
The summit was organised by Citizens United for the Rehabilitation of Errants (CURE -Nigeria) in conjunction with National Human Rights Commission (NHRC), Ministry of Justice and Office of Public Defenders.
https://www.vanguardngr.com/2019/03/building-collapse-surveyors-seek-re-certification-of-buildings-in-lagos-island/
Subscribe for latest Videos