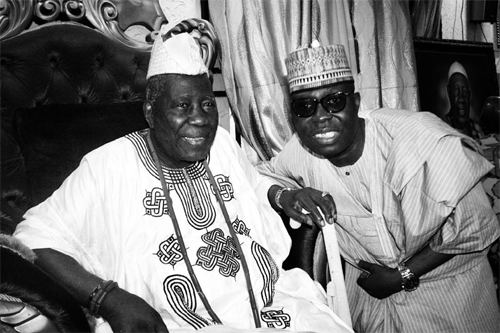 By Rotimi Agbana
Senator Rilwan Adesoji Akanbi, representing the Oyo South senatorial district, earlier today visited the palace of the Olubadan of Ibadanland and the representatives of Mogajis', to pay homage and solicit support for the All Progressives Congress (APC) ahead of Saturday's governorship and House of Assembly elections.
Senator Akanbi, has, since his rejoining the APC last week, been saddled with the task keeping to the promise he made to the leadership of the APC with regards to ensuring reconciliation with disgruntled people of Oyo State especially Ibadan people to ensure success at the polls on Saturday for APC.
Int'l Day of Education: Obaseki harps on reforms to drive sustainable devt
And so, as part of his major moves, he met with the representatives of the Mogajis in Ibadan and the Olubadan of Ibadan, Oba Saliu Akanmu Adetunji.
At the meeting, the Mogajis described the Senator as a man who always had the thought of his people at heart and is always at the forefront in ensuring sustainable development for Ibadan and Oyo State as a whole.
Adding to the various contributions from the Mogajis at the meeting, Senator Akanbi told the gathering that he was in their domain, "in continuation of his consultations to ensure that disgruntled or disenfranchised individuals, which includes artisans and trade associations within the state would be reconciled with the party, in order to ensure victory at the polls on Saturday and rebuild the party in the state".
He added that the importance of this should not be underrated as Oyo State could not afford to be disconnected from the mainstream of government. He further enthusiastically extolled  the virtues of President Muhammadu Buhari and Prof Yemi Osinbajo, adding that it is important for Oyo State to align with the ruling party to further bring sustainable development to the state.
Oyo ZLP insists on Ajanaku as Reps candidate
At the meeting, the Mogajis added that the decision to align and ensure success for the ruling party at the guber polls was also taken based on Senator Akanbi's humane and down to earth dealings with issues without discrimination. They stated that he had proven to be a true son of the soil and an 'Okanlomo' of Ibadan land owing to his various contributions towards the development of Ibadan even prior to him becoming a Senator.
In his words, the Olubadan of Ibadan thanked and appreciated him for living up to the chieftaincy title bestowed on him as the 'Okanlomo' of Ibadan land.
The Mogajis stressed that they are committed to working towards whatever will bring development to Ibadan and Oyo state as a whole and as such will work towards ensuring success for the APC at the polls on Saturday, March 9.
Briefing newsmen after the event, Senator Soji Akanbi emphasised that the decisions taken to ensure success at the polls for APC was majorly hinged at ensuring that Oyo State is not left behind as regards sustainable development.