Declares for Senate Presidency, Says he will work to reform the country's security architecture
By Henry Umoru
ABUJA- AHEAD of the inauguration of the 9th Senate as the race for who becomes the Senate President is on the to burner, the Majority leader, Senator Ahmad Lawan, All Progressives Congress, APC, Yobe North has formally declared for the number three position in the country.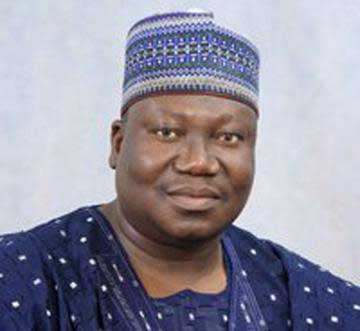 Speaking yesterday in Abuja during an interactive session with Journalists, Senator Lawan who said that he is a loyal party member, however promised to abide by whatever decisions that would be arrived at by the ruling APC with respect to zoning, just as he vowed that that 2015 mistakes that were made by the party where the preferred candidate did not scale through among others, will not repeat themselves.
Lawan, who is a very ranking Senator that has been in the National Assembly since 1999, stressed the need for respect of party supremacy, even as he said that the APC has learnt lessons from its past mistakes and experiences, adding that his Senate Presidency would help in the creation of special anti corruption courts that would help fast track cases of fight against corruption, rather than a situation where cases linger for ten years as well as help reform the security architecture of the country.
According to him, with the caliber of those elected into the Ninth Senate, they would surpass the achievements of the current Eighth Senate, adding that if elected as Senate President in the next Assembly, his leadership would vigorously support the three cardinal promises of the Buhari administration: security, anti-corruption and revamping the economy.
Meanwhile, out of the 106 senatorial positions declared so far by the Independent National Electoral Commission (INEC), APC controls 64 seats, the Peoples Democratic Party (PDP) has 41 lawmakers and Young Progressive Party (YPP) one. The remaining three senatorial seats of Imo North, Imo West and Plateau South are yet to be declared by INEC.
It was also gathered that the APC, which controls the two legislative chamber, will meet any moment from now to formally zone leadership seats in both chambers of the National Assembly.
When the Senate Leader who was flanked at the interactive session with other Senators- elect was asked if he would respect party supremacy especially if the APC zones the Senate Presidency outside his Geo- political zone which is the North East where he hails from, he simply said: "Am I not a party man? I am a loyal party man. I will respect the decisions of my leaders and party".
On the level of consultation, especially with members of the Peoples Democratic Party, PDP, Senator Lawan who explained that he was already in very serious consultation with members of PDP and the Young Progressive Party (YPP) respectively, said: "We need the cooperation and support of everybody. I also believe that if we want to work with the Executive in such a manner that we can deliver good governance, first we need to achieve unity amongst ourselves.
"We are Senators who believe in party supremacy. We believe in the leadership of our party. But the leadership we are seeking is leadership of the Senate and the National Assembly. So, it is very critical and crucial that we talk to our colleagues, convince them that we are the right people to lead the Senate and the National Assembly. We take nobody for granted. We believe that the crop of senators elected this time will be such a crop that we can achieve much more in terms of uniting ourselves and focusing on the real issues of development of making Nigerians experience very rapid and sustainable changes and transformation.
"We are not in any way thinking that we will start having some crisis. We are not even praying that that happens but our party, the All Progressives Congress, must have learnt its lessons. Therefore, I am sure the leadership of the party will do something differently. I am sure our leaders will try to manage this huge success of APC. And I have no doubt that the party will find us complaint and very supportive of the programmes of our party and our administration under the leadership of President Muhammadu Buhari".
The ten Senators- elect who accompanied him during the briefing were Francis Alimikhena, Ifeanyi Ubah, Sabi Aliyu Abdullahi, Teslim Folarin, Ahmed Kaita, Michael Opeyemi Bamidele, Muhammed Isa, Ibrahim Hassan Hadejia, Bello Mandiya and Abdullahi Gumel.
Speaking further, Senator Ahmad Lawan said, "Our main task if and when we make it is to ensure that we support the President, the party to implement our campaign promises.
"Let us start with the economy: we want an economy that will engender sustained, all inclusive growth. Our main constituency as a progressive party are the most ordinary people. That is not to say that those who are up there at the highest ladder of the economy are not with us. But majority of Nigerians who vote for APC are those very ordinary people in the villages and hamlets. It is therefore very critical and crucial for our adminstration to come up on sustained programmes that will make life better for this set of people. And also support those who build the economy. That is those in the private sector so that they are able to create and sustain jobs.
https://www.vanguardngr.com/2019/03/enugu-polls-fallout-gov-ugwuanyi-preaches-peace-unity/
"On employment, we have worked hard in the last three-and-half years as a government to ensure that there is employment. But we want to work harder to see that more Nigerians, especially the youth, get good jobs that will grow this economy, create wealth. We have social investment programmes. I want to see some reforms in the social investment programme, to improve it and make it more profound in terms of effect and efficiency.
"Agriculture has been one area that our administration has been working hard on. And today, we are happy to say that Nigeria doesn't even import rice; something that we were spending so much of our foreign reserves to import. But what that means is: the billions of dollars that we were spending to import rice are now within this country. People know that in so many states from Kebbi, Ebonyi, so much rice today is produced, processed and sold within Nigeria. That is wealth creation in addition to job creation. Even though we have some challenge in that area, that is to say that we have to fight smuggling.
"We have some of those areas of concern in terms of security. We need to support the Executive arm of government to continue to address the security concerns. But we have achieved so much, knowing full well that by 2015 when this administration came into office, so many parts of Borno, Yobe and Adamawa were under the control of Boko Haram insurgents. And they infiltrated up to Abuja here including the Force Headquarters. We have achieved so much in that area but we want to see a situation where the security architecture of this country is reformed.
"In fact, some of you here will recall that I headed a Security Committee on the Review of the Security Architecture in Nigeria. And we presented our report which recommended reforms in our Armed Forces, Police. It is not only giving money to the security agencies, you need to have such a structure that when you put in money, it will be utilised in a very productive, prudent, efficient and effective manner.
"On the anti-corruption fight, it is our mission to ensure that the President and this administration continues to fight against corruption. I can tell you that most of the ills that we are suffering today in this country, they are because people have stolen public funds. So when you are able to contain the excesses in that regard, you could have resources deployed properly. But I also believe that we should be proactive. Can we amend laws to make it difficult for people to embezzle in public office and even in the private sector? Why can't we have special anti-corruption courts to support the fight against corruption in Nigeria? Because we need to fast track the legal processes to ensure that whoever is found guilty is prosecuted in a time that is reasonable. Also, why can't we reform the educational sector? This is 21st Century. So that those who graduate from our institutions are able to contribute meaningfully whether they are in government employment or in the private sector. On the whole, we should be looking at law reforms also. Those laws that are obsolete – there are many of them. Those that require total overhaul or we come up with others to complement what we already have".
Meanwhile, with the position of the Senate President going to the North East, with Senator Ahmad Lawal as the possible candidate and preferred person, it was gathered that the deputy Senate President position would be zoned to the South South, with the present Deputy Chief Whip, Senator Francis Alimikhena, APC, Edo North to be paired with Senator Lawan.
https://www.vanguardngr.com/2018/12/police-ig-dss-military-others-set-for-edo-security-architecture-trust-fund-launch/
Senator Alimikhena, who came into the Senate in 2015, being the only APC Senator then at the beginning of 8th Senate, got the position of Deputy Chief Whip and since then, he has shown his experience, age, diligence, calmness, team spirit as he had chaired many Adhoc committees, with the most recent one, which is the Senate Ad-hoc Committee on the National Minimum Wage Act CAP N61 LFN (repeal and re-enactment) Bill, 2019 (SB. 722), that recommended N30,000 as the minimum wage for Nigeria workers and it was read the third time and passed.