By Henry Umoru
As the race for who becomes the Senate President continues, the Majority Leader, Senator Ahmad Lawan, All Progressives Congress, APC, Yobe North, has formally declared for the number three position in the country.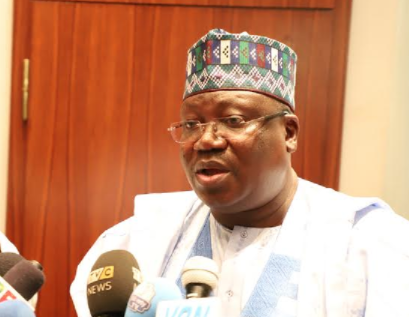 Speaking yesterday in Abuja during an interactive session with journalists, Lawan, who said he is a loyal party member, however, promised to abide by whatever decisions that would be arrived at by the ruling APC with respect to zoning, just as he vowed that that 2015 mistakes that were made by the party where the preferred candidate did not scale through, among others, will not  repeat themselves.
Lawan, who is a  ranking senator as he has been in the National Assembly since 1999, stressed the need for respect  for party supremacy, even as he said that the APC had  learnt lessons from its past mistakes and experiences. He added  his Senate Presidency would help in the creation of special anti-corruption courts that to fast track the fight against corruption.
Sen. Alfa calls for intensive fight against corruption, greater efficiency of NPF
According to him, with the caliber of those elected into 9th Senate, they would surpass the achievements of the Eighth Senate. He added that if elected as Senate President in the next Assembly, his leadership would vigorously support the three cardinal promises of the Buhari administration: Security, anti-corruption and revamping the economy.
Of the 106 senatorial positions declared so far by the Independent National Electoral Commission (INEC), APC has 64 seats, the Peoples Democratic Party (PDP) has 41 lawmakers and Young Progressive Party (YPP) one. The remaining three senatorial seats of Imo North, Imo West and Plateau South are yet to be declared by INEC.
It was also gathered that the APC, which controls the two legislative chambers, will meet any moment from now to formally zone leadership seats in both chambers of the National Assembly.
Subscribe for latest Videos