… As analysts project cautious optimistic outlook
By Peter Egwuatu
Selloff sentiment persisted in the Nigeria equity market, lengthening losses to four successive trading session as investors lose over N103 billion of their investment.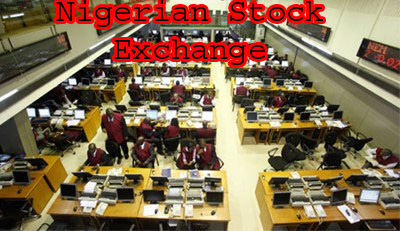 Notwithstanding the bearish run, analysts have projected cautious optimistic outlook for the market in the nearest term noting that the fundamentals of most companies remain bright.
Analysis of the market for the four trading days show that the market capitalisation which represents investors' worth dropped by over N103 billion to close at N11.591 trillion from N11.694 it closed last week Wednesday.
Thus, the Month-to-Date and the Year-to-Date, YtD returns decreased to -2.01 percent and -1.11 percent respectively.
In the same manner another equity market gauge, Nigerian Stock Exchange, NSE All Share Index ASI declined by 0.9 percent to close at 31,082.32 points from 31,360.28 points it closed last week Wednesday
Meanwhile, analysis of yesterday's trading shows that equities market sustained its bearish run for the fourth successive trading session as the benchmark index declined by 0.14 percent, to 31,082.32 points, driven by sell-offs across large cap Consumer Goods stocks..
The negative performance was majorly driven by huge profit taking in high volume traded stocks. Market breadth closed negative, recording 17 gainers and 18 losers.
The ASI shed 43.07 absolute points, representing a decline of 0.14 percent to close at 31,082.32 points. Similarly, market capitalization lost N16.06 billion representing a dip of 0.14 percent, to close at N11.59trillion.
However, activity level improved as volume and value traded rose by 39.5 percent and 60.7 percent to 286.6million units and N3.1billion respectively.
The most traded stocks by volume were Access Bank (84.7million units), United Bank for Africa, UBA (40.9million unit) and Zenith Bank (22.2million units) while the most traded stocks by value were Guaranty Trust Bank  (N797.0million), Access Bank  (N500.0million ) and Zenith Bank  (N482.9million ).
Across sectors, performance was mixed as three of five indices trended southward. The Banking index rose 2.1 percent  following price appreciation in Guaranty  Trust Bank Plc  (+4.1 percent ), ETI (+2.2 percent ), Fidelity  Bank (+4.7 percent ) while the Oil & Gas index appreciated 0.3 percent  on the back of gains in MOBIL (+2.4 percent ).
The Consumer Goods index led losers, down 2.0 percent  due to price depreciation in Nigerian Breweries (-6.7 percent ) and Nestle Nigeria  (-1.2 percent).
Mixed sentiment to trail equities market this week
Similarly, the Insurance index fell 0.6 percent driven largely by declines in NEM Insurance  (-2.1 percent), Mutual Benefit (-4.2 percent ) and Niger Insurance  (-4.6 percent).
Finally, marginal loss in Dangote Cement (-0.3 percent) dragged the Industrial Goods index by 0.1 percent.
Investor sentiment as measured by market strengthened as 17 stocks advanced against 18 that declined. The top gainers for the day were MCNICHOLS (+10.0 percent), FIRST Aluminium (+7.1 percent) and FCMB (+6.7 percent) while PRESCO (-9.3 percent), Ikeja Hotel (-9.1 percent) and Glaxo Smith (-9.1 percent) led laggards.
Commenting on the performance of the market, analysts at Afrinvest Research stated: "In spite of t Tuesday's downward outing, we maintain our cautiously optimistic outlook for the market in the near term."
In their own comments, analysts at Cordros Capital, a Lagos based investment house, said: "In the absence of a positive catalyst, we guide investors to trade cautiously in the short term. However, stable macroeconomic fundamentals and compelling valuation remain supportive of recovery in the mid-to-long term."