The Minister of Power, Works and Housing, Mr Babatunde Fashola has called for the enforcement of speed limits on highways to reduce incidences of crashes.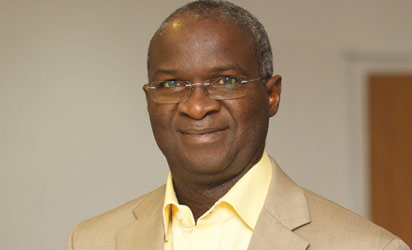 Fashola made the call on Tuesday in Abuja in his keynote address at a workshop on the activation of the five United Nations conventions on road traffic, acceded to by Nigeria.
The workshop was organised by the Office of the Secretary to the Government of the Federation (SGF) in conjunction with the Federal Road Safety Corps (FRSC).
President Muhammadu Buhari in October 2018 signed the Instrument of Accession to the Vienna Convention on Road Traffic of Nov. 5, 1968.
The list of the five Conventions and agreements acceded to by Nigeria on road safety are 1968 Convention on Road Traffic, 1958 Agreement Concerning the Adoption of Uniform Technical Prescriptions for Wheeled Vehicles, 1998 Agreement Concerning Establishment of Global Technical Regulations for Wheeled Vehicles, Equipment and Parts which can be fitted and/or used on Wheeled Vehicles.
Others are the 1997 Agreement Concerning Uniform Conditions for Periodic Technical Inspections for Wheeled Vehicles and the 1957 Agreement Concerning the International Carriage of Dangerous Goods by Road.
Fashola said that the call followed monthly statistical from the FRSC that most accidents on the highways were as a result of speed violations.
He said that in September and October 2018, 51 and 54 per cent of road accidents recorded were attributed to speed violations.
The minister said that 59 per cent of the crashes were attributed to commercial vehicle operators while private vehicles account for 38 per cent and government vehicles, one per cent.
According to him, what this means is that if we must solve this problem, we must focus on the enforcement of speed limits on highways.
"For members of the public who readily attribute crashes to the bad road, the FRSC data did not support this position; the data indicate that bad road account for 0.55 per cent of accidents.
"It is clear that speed violation remains the most prevalent crash causative factor of an accident in Nigeria.
"The implication of this is that if we are able collectively, to address speed violation, we will have successfully reduced accidents on our roads by more than 50 per cent," he said.
He commended the FRSC for the awareness of seat belt use in the country adding that the process was not achieved by arresting and detaining people but by the massive campaign.
According to him, it is the same kind of campaign and education that attracts voluntary compliance that should be deployed to the enforcement of the speed limit on highways.
He said that the real task ahead of the stakeholders was the implementation of the five treaties adding that on their own, the treaties would not save lives.
Fashola called for collective efforts among stakeholders to ensure smooth implementation of the treaties in line with the framework it provided to ensure safety on Nigerian roads. (NAN)