Lagos – Ehrire Best, a 2018 National Sports Festival bronze medallist in the high jump event, on Monday said that Mutaz Essa Barshim of Qatar and Nigeria's Mike Edward were his role models.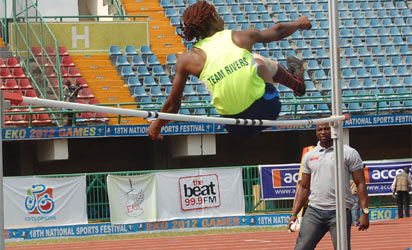 Best said in Lagos that nationally and internationally, his two role models always spurred him to strive for excellence.
"At the national level, I have Mike Edwards as my role model, he is currently the best high jumper in the country and he's the Chief Executive Officer of Aireyys company.
"He's a typical example of an athlete who has combined sports and a professional career and that's why I chose him.
"And for my role model internationally, I have Mutaz Essa Barshim from Qatar, he's my high flyer that is why he motivates me. He is ranked second in the high jump currently.
"These two athletes always make me want to achieve excellence, they spur me to have the belief that I can achieve anything if I put my mind to it," he said.
The Delta indigene, who started his career in 2017, said that he hoped to go farther in his jumps as the athletics season progresses.
"My journey into athletics started on Aug. 10, 2017, few days to the 3rd National Youth Games in Ilorin.
"Within a short period of training I was ready for Delta State U-18 trial, which I won with a mark of 1.85 meters.
"Two weeks after, with the same mark, I was able to clinch a silver medal at the 2017 Games in Ilorin.
"I hope to progress farther this year," he said.
The young athlete who jumped a mark of 2.05m at the 2018 NSF which held in Abuja, told NAN that he chose high jump because of the passion he had for the discipline.
"I chose high jump because I have always had the passion for it far back, and so, I really don't remember the exact time, but I had the conviction that I could do the high jump.
"But I can say that after my first national competition at Ilorin, my conviction about doing high jump increased,'' he said.
The athlete, who is currently under the tutelage of Mavuah Esabunor, said that a lot of athletes did not like high jump because of its technicalities.
"Being a technical event, athletes run away from it and I feel that it was because there are few coaches who specialise in this particular event.
"And the equipment for high jump is not available at some places. For me, I train under a sprint, hurdle coach.
"He goes the extra mile just to make sure I get my necessary programme because we usually have to improvise.
https://www.vanguardngr.com/2019/03/prophetess-in-prison-over-alleged-n500000-fraud/
"He however applauded his parents for giving him the needed encouragement.
"Since my parents understand the fact that sport is a career, they allowed me to do it. They have been trying their best for me.
"They often point out the do's and don'ts as an athlete to me, they create time for me so I can train and they support me financially from the little they have," he said.
The athlete who just graduated from secondary school said he hoped to attend a tertiary institution, as both athletics and education were important.
He represented the country at the 2018 African Youth Games in Algiers. (NAN)