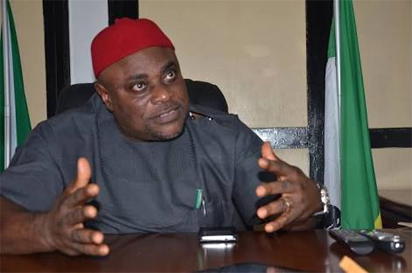 Chief Victor Ike-Oye
By Vincent Ujumadu & Chimaobi Nwaiwu
Nnewi—Aggrieved members of All Progressive Grand Alliance, APGA, yesterday called on the party national chairman, Chief Victor Oye to resign.
The group after its meeting took a resolution that Oye must resign because the party is fast crumbling and gradually going into extinction under his leadership.
The aggrieved members declared that "Chief Oye has failed woefully and had no choice than to leave the party honourably."
Spokesman of the group, Owelle Onyeka Mbaso said: "We've told the party leadership to refund us  the money spent on nomination forms for the party primaries but they have not.
"We are pleading with Governor Willie Obiano to prevail on Chief Oye to resign and leave the party because his leadership of the party has brought doom to the party and we also urge the governor to implement the resolutions of the peace and reconciliation committee  set up by the party.
"We insist that the party will not make any headway until the refund of our money is effected because this has started telling on the party considering what happened during the National Assembly elections.
"Oye must resign and go so we can have clean leadership and fresh air to face March 9, 2019 elections.
"The governor knows the implications of Oye's refusal to quit. The party lost all the senatorial seats in the state. The most painful and regrettable is loss of Anambra Central Senatorial seat which our former national chairman, Senator Victor Umeh lost under Chief Oye's leadership.
Ndigbo should stop emotional politics —Oye
However, the national chairman of All Progressive Grand Alliance, APGA, Chief Victor Oye yesterday advised Igbo people to stop playing emotional politics, arguing that such politics would never benefit them.
Addressing reporters at Amawbia after assessing last week's presidential and national assembly elections, Oye said Ndigbo were "digging their graves by not supporting APGA," a political party which they ought to use to launch themselves into national politics.
He said: "Our people play politics of emotion rather than politics of pragmatism. Once they take a decision, everybody toes the line, which is not ideal. They are easily swayed by emotional consideration as demonstrated during the last two elections of 2015 and 2019.
"Everything to them is about a particular interest and once they make up their mind to go towards a particular direction, that is where a sizeable number of them will go.
"The Igbo should come together as a people to discuss their common interest. Their common problem is unity. They can't always come together and they are easily carried away by extraneous things, as demonstrated in the last two elections of 2015 and 2019."
Igbo should realign themselves and re-determine the options before them.
"What happened last Saturday was that the Igbo people worked as a team, but in the end, they lost. They won the battle of self assertion and lost the war. They asserted themselves, showing they can make things happen.
"It shows that if they had pulled resources together and worked under a political party, they would make more forays. Igbo need to play at the national politics, not  ethnocentric regional politics knowing that Nigeria is a monolithic political structure. My advice is that our people should be wiser so that they can get things right.
Oye observed that if Igbo did not change their style of politics, the much talked about Igbo president in 2023 might be a mirage.
He however said that as the national chairman of APGA, he was working hard to make the party have significant presence in all parts of the country, adding that it was due to such effort that made it possible for APGA to win 11 national assembly seats across the various geopolitical zones during last week's poll.