Unless something is done quickly, there may be breakdown of law and order across communities in Imo State as the people demand immediate announcement of all the results of the governorship and state assembly elections.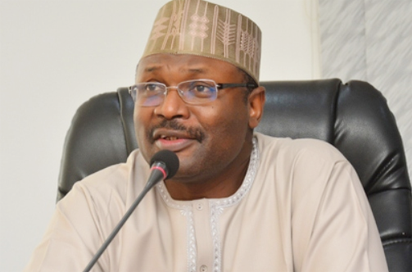 Reports from different communities in the state indicated that  there is mobilisation of people, especially the youths  for massive protests unless the result of the election, especially that of governorship poll.
Guber election: APC in early lead in Nasarawa
Earlier, some aides of the governor were accused of being the masterminds of violent disruption of collation of the governorship election results.
They were said to have carried out violent actions following as results were about being declared in Ideato South Local Government Area.
Agents of other parties were said to have complained that only Action Alliance (AA) party agent signed the result in exclusion of others. They alleged that Governor Okorocha personally chased out all party agents and replaced the INEC result with his personal one.
Following the trouble caused by agents of AA party and thugs stationed there by the party, electoral officers were quickly smuggled out of the hall by security agents.
It would be recalled that pandemonium broke out in Umuaka, Orlu Local Government Area, as a young man who just returned to Nigeria from abroad in order to participate in the election was killed on the day of the election.
The deceased, identified as Uchenna Agugua, who hails from Umuaka community in Orlu L.G.A, Imo state, was killed following mayhem said to have been cause by thugs loyal to governor Rochas who himself is from Orlu.
Policing Lagos: The task before CP Muazu Zubairu
According to Gideon Chidiebere, the deceased came back from Mozambique just for election before his death. His body has been deposited in the mortuary as investigations are going on to apprehend all those connected to the killing.
In a related development, Daily Times had earlier reported that more than 100 persons have been arrested across Imo State since Saturday as many of them are said to be either party members or hoodlums allegedly hired by the state government, with some wearing fake Police or military uniforms.
According to the State Commissioner of Police, Dasuki Galadanchi while briefing newsmen on Sunday at the Independent National Electoral Commission (INEC) office in Owerri, some of those arrested included thugs, fake police officers and fake military personnel in camouflage.
He said, for instance, that there was an attack Sunday morning in Nwangele Local Government Area of Imo State, the L.G.A of Uche Nwosu, governorship candidate of Action Alliance (AA), where some INEC ad-hoc staff were wounded and taken to hospital.
Dasuki also said, another attack took place in Mbaitoli Local Government Area, adding that all those who have been arrested will be fully investigated and prosecuted.
Breaking: Akwa Ibom former gov storms Essien Udim collation centre
It is also interesting to recall that after the signing of Peace accord by all the candidates of various political parties in Imo State, the Deputy Governor of Imo State and leader of All Progressives Congress, Prince Eze Madumere raised the alarm that Rochas was out to cause serious mayhem if he feels that the election was not going his way.
Madumere therefore asked that Governor Rochas Okorocha be held responsible should there be any form of political violence and breach of peace. That was even before the presidential election.
Speaking to a delegation of Election Observers from the United States who were by Mr. Chris Uche, during a courtesy visit at his country home, Achi, Ezi autonomous community in Mbieri, Mbaitoli local government, Madumere said that Okorocha who is contesting Imo West senatorial while sponsoring his son-in-law for governorship position is desperate following his irrecoverable diminished popularity.
"It is true that all the candidates have signed peace accord to abide by the spirit of the pact by conducting themselves in a peaceful manner during the electioneering process. Let me warn, should there be an eruption of violence, hold Okorocha responsible. He is desperate. He has lot popularity owing to his misrule and sadistic life style where inflicting pains on the people is his only source of happiness."
He reminded his guests of Okorocha's public statements, promising to spill blood to ensure that he installs himself as Senator and his puppet son-in-law as governor.
"Imo people have rejected it and that is why he is desperate. He has been training militia groups, imported some hoodlums and we know that they are camped at various points of the state. We call on the police and other security agencies, whom I am sure are aware of the development through various sources of intelligence."
Madumere insisted that Okorocha is fighting like a wounded lion having been cut to size in the cause of building and turning the state to a family political dynasty.
Madumere revealed that Okorocha had wanted all the family members to occupy all the juicy elective and appointive posts. "He wants to continue in office by proxy, he wants the wife to be House of Representatives member, he wants the family members to be Chief of Staff, Commissioner for finance, Majority leader in the House of Assembly and what have you," the deputy governor said.
Okota crisis: Suspected thug, Demola to face trial — CP Muazu
In a related development, the All Progressives Congress (APC) in Imo also expressed concern that Governor Rochas Okorocha's desperate bid to ensure that his son-in-law becomes his successor might plunge the state into violence.
APC, which Rochas is also a member said that all governor Okorocha ever cared about is his selfish political interest and his family and never that of the people of the state or the party and President Muhammadu Buhari's re-election bid.
According to APC, Okorocha's desperation was hinged on his 2023 presidential ambition and that with his son-in-law as the governor it would give him unfettered access to state resources with which to prosecute his presidential ambition.
The State Caretaker Chairman of the APC, Prince Marcellinus Nlemigbo said that "the problem with Governor Okorocha is that he is playing god. He has been using the name of the president to commit a lot of havoc, boasting that he controls the president and the Imo State Commissioner of Police.
"He was shocked when he was suspended by the party and it was even more laughable when he claimed that the president was not aware of his suspension and we wonder whether Okorocha thinks our dear president is a member of the AA."
Speaking on the matter the development in Imo State and the readiness of the people to get their mandate to their choice candidate, Declan Chukwu, a community leader in Mgbala Agwa autonomous community in the state said that Governor Okorocha is the brain behind the various incidences of violence since early morning of Saturday when the election started.
"The problem we have in Imo right now is that Rochas appointed his brothers, his wife, his children and uncles into various positions, thereby making governance in our state a family affair. To make matters worse, the governor anointed his son-in-law Uche Nwosu who was initially his Chief of Staff, to become his successor as the next governor after him.
Imo monarchs flay Okorocha over traditional institution, endorse Uzodinma
"When his party, the All Progressives Congress refused to give Uche Nwosu ticket through his defeat by Senator Hope Uzodinma, Rochas moved his son-in-law to Action Alliance, a party he founded many years ago.
"Now, faced with imminent defeat, as Imo people voted massively against Uche Nwosu, Rochas mobilized thousands of thugs and unleashed them on the state to cause mayhem, destroy electoral materials and maim his opponents. But our people stood their grounds and ensured that they voted candidates of their choice.
"The issue is that Rochas is afraid of what happens to him and his short-lived political dynasty because of massive looting of state resources under his administration. He is afraid of going to jail alongside many of his relatives that he appointed into government offices and who together, fleeced the state of billions of Naira," Declan said.
Subscribe for latest Videos