But I'm not interested in unnecessary fight with executive
We'll revisit report on security architecture, restructuring of armed forces
I'll support creation special courts for corruption cases
Let's   talk less about jumbo pay for lawmakers but productivity
By Onochie Anibeze, Saturday Editor
Senate Leader, Sen Ahmed Lawan, in a chat with journalists in Lagos, explains how he would operate if elected as the Senate President. Among other issues, he dismisses fears that he would be a stooge of President Muhammadu Buhari.
Our President and our party
Nigerians   freely elected the All Progressives Congress,APC, in 2015   at the presidential, National Assembly, NASS, and gubernatorial levels. Our aim is to have a NASS that would work for Nigerians. The people renewed their faith in the President and the party by re-electing them. Those issues that are so important and crucial to the life of Nigerians would be prioritised.
https://www.vanguardngr.com/2019/03/senate-presidency-ndume-writes-apc-leadership-declares-interest/
We would continue to deliver to Nigerians those campaign promises made by our President and our party. Those issues that are so important and crucial in the lives of Nigerians would be given maximum attention.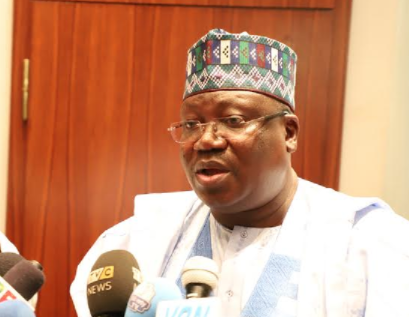 Our party campaigned on three major issues affecting the country in 2015 and did same in 2019. The issues include security, revamping and revitalizing the economy, and   creation and sustenance of an economy that works for everybody. That means that we would ensure an all-inclusive economy not only for those on top but also those at the bottom. That is also applicable to security. We need to ensure that whatever we would do in fighting insecurity is the right response.
APC is the majority
There was a time in this country when we had so many resources, yet there was little impact on the lives of Nigerians. That was sometime ago when another party was in power. I believe that corruption is the major bane of development in Nigeria. We had so much but could not save because of corruption. We have   little resources now because corruption was condoned to an extent that we can't achieve so much.
When the oil price was so low, coming downing below $30 per barrel, this administration managed the little resources. What we have been able to achieve is more when compared to those years when we had a surplus.
The reason is, the fight against corruption is on. People have become   fearful. I want to achieve the target of becoming the Senate president not to bear the name but because we want to make a positive difference in governance.
We are talking to all our colleagues and senators-elect. We are not taking anybody for granted. I personally want to have a one on one chat with all the senators asking and seeking their support, because I will work with them when I get there. Therefore, I need their support and understanding. I do not want to take anybody for granted.
It might even be easier getting to the office, but it is more challenging staying in the office to deliver what you are saying. In fact, we need everybody to make it work. The APC is the majority, we are 67 senators, followed by PDP. We have Ifeanyi Uba of the Young Progressives Party, YPP.
Activities of government 
We will continue to talk to our colleagues to have   their support and experiences. The ninth Senate will have the capacity of solving Nigeria's problems. In terms of experience, I have it. There are so many senators, who have not stayed long but have experience and I am looking forward to working with them.
I was in opposition for 16 years, I headed committees for eight years, between 2007 and 2015. There is always a time when it will be appropriate to support the government because the government is heading in the right direction, and as legislators, we should support and monitor the activities of government   for service delivery. There are other times when an issue will come up and the legislator will say no, this is not the way to go, we need a better method. We would not throw anything away because as legislators, our job is to make Nigeria grow and prosper. But if any issue requires to be discarded, so be it.
Separation of powers
I believe that NASS must work in a very cordial manner. I believe very strongly that we are by right meant to work together. While the constitution   provides for separation of powers, there are other things that separation does not take care of. There is also the need for division of labour, such that some persons perform certain duties, while others would do the remaining part   to ensure inclusiveness.
We are supposed to provide intervention that would allow the government to achieve its mandate. We are supposed to monitor and ensure the government is on track. Those checks and balances must be there.   I want to see a relationship between the government and legislature that will be characterised by cooperation, synergy and partnership. And such requires investment. We are also to carry out oversight functions and checkmate the excesses of the government. Whenever we disagree, we should sit down and discuss to find a way out to prevent individual and group interests from overriding national interest.
National interest
We want a NASS that would not be interested in unnecessary confrontations. Misunderstandings would occur because it is not possible that things would always work seamlessly. What we are going to do is to find better mechanism for resolving crisis without hurting our national interest. The APC has demonstrated the capacity and willingness to move the nation forward. For instance, the first thing President Buhari did was to move the Theatre Command of the Nigerian Army to Borno. Those of us in the northeast can give a testimony of what the situation was in the area and what it is now. This administration worked   to ensure that we degraded Boko Haram insurgents. We need to review our security architecture in the country but I don't believe in confrontations because we may not get the required results. We would work to see how we can assist our armed forces. We are going to visit the reports submitted to us on the restructuring of the armed forces. On the economy. we are already doing well in agriculture but the challenge we have is the creation of employment. Nigeria has conserved millions of dollars by stopping the importation of rice. On anti corruption, we are fighting it properly and I would support the creation of special courts for corruption cases.
Rubber stamp Senate
My antecedents are well known. We will checkmate excesses of the executive but I don't believe in unnecessary fights. That does not mean that we would not reject anything that is against the national interest. But I want to see a relationship that works because when the relationship between the legislature and the executive is not cordial, the people would suffer. Nigerians need jobs and to achieve that, it is important for us to have a working relationship with the executive. Without that, Nigerians would not see the meaning of democracy. On insecurity, we are working on a report on the reform of the security architecture. The Police Act has been reformed. On humongous pay of law makers, I believe that the legislature is so important and should be well funded. We need to provide resources that would make it function efficiently. I don't think the issue of resources should be the focus but the issue of productivity. It should be our major concern. We have to conduct ourselves with high sense of responsibility so that we would truly be seen as the representatives of the people. I am assuring that the ninth senate would be better than the   eight senate.
On insecurity
I believe that what we need is to have a security outfit to work for all of us so that we don't rely much on the police. The security issues are so critical today because security agencies are not doing enough. While we need to support the police with more funding, I also believe   we have to review the structure. We need to have a structure that would make the police function well before we start investing more money in them.
Subscribe for latest Videos