By Godfrey Bivbere
There are indications that the Nigerian Navy may have been over-stretched in securing the waterways in the Lagos area as only nine out of 33 security points presently along the water area are manned.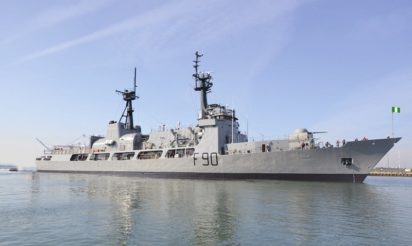 Giving this indication at the meeting organised by the Nigerian Chamber of Shipping, NCS, in Lagos, the Command Operation Officer of the Western Naval Command, Capt. M. M. Braimoh said that apart from this, they have arrested 33 offending vessels in the last six months, but two of them have sunk.
Braimoh pointed out that they have to place four to six armed men onboard each of the seized vessels for protection, noting that this is putting a strain on its manpower.
Speaking, Braimoh said, "I will really want to hammer on implementation, as a Navy; we have a platform where all stakeholders come in. Being the Command Operation Officer, COO,  of the Western axis, we have seen so much since the last six months. I have been in Command in the last six months and we have arrested 33 vessels.
"Each of these vessels, we have to put not less than four to six personnel armed so if you multiply that by 33, at the end of the day, you look at where are our personnel and where are our other partners.
https://www.vanguardngr.com/2019/02/merchant-navy-petitions-nimasa-over-chinese-domination-of-cabotage-trade/
"Nigerian Navy, for example, is far overstretched.  What we are discussing about now is that there is a need for all stakeholders to come up with a document that has to do with the implementation of arrested vessels and we are going to have all partners.
"Now, if we arrest we call the Nigerian Maritime Administration and Safety Agency, NIMASA, we call  Nigeria  Security and  Civil Defense Corps, NSCDC, we call the Nigeria Police, we call the Economic and Financial Crimes Commission, EFCC.
"We have held several meetings with them. Depending on the nature of that vessel, that is the way they will react and if they do not react; it becomes a burden to the Nigerian Navy. Right now two of these vessels are gone aground."